I guess by now most of you have read about the XO-2 which was announced by Nicholas Negroponte last week. Most people seem to like the design while at the same time nearly every comment I've read is very skeptical of the XO-2 arriving in 2010 at the $75 price-point Negroponte has mentioned. And you know what, it doesn't actually matter whether it's 2010, 2011, or 2012, $75, $100 or $188.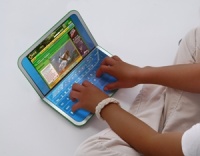 XOXO CGI rendering.
Thank you OLPC
Regardless of what you think of OLPC, the price of the XO-1, its delays or other problems, everyone acknowledges that it's one hell of a breakthrough device and if it hadn't been for Negroponte and his /insane/ '$100 laptop' vision low-cost computing wouldn't be where it is today. Classmate, eee PC, whatever they're called wouldn't exist, I'd even go as far as saying that the whole device category that Wayan has dubbed '4P computing' wouldn't exist to be talked about.
The main reason why the XO-1 has had so much impact is because it was the first laptop computer that was tailored in every respect to be used by children, for education, in developing countries. Look at the Classmate PC, it's the result of a dirty hackjob that Intel had to pull out of its head on short notice. The eee PC is a Classmate in a sexier enclosure, accompanied by extensive marketing and the fact that it's available on Amazon. This made it very popular with people in North America and Europe. However it's neither been designed for the same difficult environments as the XO-1 nor specifically for kids.
One step forward, 2 steps back
Now let's get back to the price of the XOs. We all know that $100 became $188 so let's assume that OLPC again overshoots its target by 200%. And you know what, at $150 the XOXO still looks like an excellent deal. Whether OLPC is on target doesn't actually matter, their goals are so /insanely/ ambitious that only getting their half-way would count as a success judged by almost any standard. Compare that to the Asus eee PC701 which should have cost $199 according to the initial announcements. Most people I know forked over $299 or $399 for their eee PC701 and I'm not sure the $199 ever became available in any decent numbers. If you look at the latest eee PC900 series with its price starting somewhere around $549 I'm not sure we can talk about a low-cost device anymore (and its battery life is worse than on its predecessor too!). That's definitely a step into the wrong direction.
OLPC on the other hand makes a bold statement about another clock-stopping hot (TM Wayan Vota) device that's supposed to cost significantly less and be significantly better than anything we know today. That's the kind of daring forward thinking that got us the XO-1, advanced low-cost computing and started 4PC. If the only price we pay for such significant and lasting advances are 3 years full of delays, cost increases and epic marketing-bull then I say: Go for it OLPC! Because no one else is.