At the much-anticipated press-event that took place at OLPC HQ in Boston earlier today, the organization unveiled its plans for second generation of XO hardware. The XO-2, or XOXO as it's also called, comes with dual-touchscreens which has some tech journalists thinking of the Nintendo DS. As you can see on the photo to your right one of the touchscreens can be used as a keyboard to enable the standard typewriter style of computing.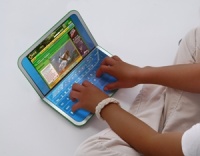 CGI rendering of the XOXO.
The XO-2 will make use of displays developed by Pixel Qi which was founded by former OLPC-CTO Mary Lou Jepsen in early 2008. With regards to input methods a blog entry on guardian.co.uk it says:
"Younger children will be able to use simple keyboards to get going, and older children will be able to switch between keyboards customized for applications as well as for multiple languages."
When it comes to power-consumption the press-release (via gizmodo) mentions:
"While the first generation XO laptop already requires just one-tenth (2-4 watts versus 20-40 watts) of the electrical power necessary to run a standard laptop, the XO-2 will reduce power consumption even further to 1 watt."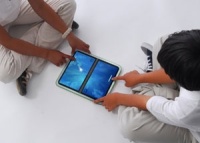 This is what I call collaboration.
Based on this information it seems quite reasonable to assume that the XOXO won't be built on an x86 architecture. In terms of a release date for the XO-2 it was mentioned that OLPC expects it to become available in 2010, which sounds like a relatively realistic estimate. With regards to the price OLPC estimates the XO-2 to cost around $75.
On top of that it seems as though a new UN Millennium Development Goal is in the works. The press-release quotes Nirj Deva, Member of the European Parliament, as saying:
"One Laptop per Child and the XO laptop are crucial to the fulfillment of the proposed UN Ninth Millennium Goal: to ensure that every child between the ages of 6 and 12 has immediate access to a personal laptop computer by 2015."
Oh, and in other news: G1G1 will make a comeback in late summer, probably August or September.
Comments anyone?
Update: Apparently the folks from info Sync World were paying closer attention than most other reporters as they're also mentioning an interim XO-1.5:
XO 1.5 will be released in the spring of 2009 with the same design as the first generation but with fewer physical parts and at lower cost than XO 1.0.