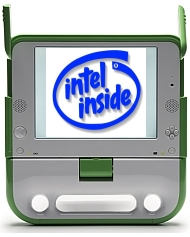 I'm sure everyone has seen Sumner Lemon's article about Intel inside One Laptop Per Child. In reading his comments on the previously reported effort of Intel to be OLPC's chipset supplier, I was intrigued by Walter Bender's take-all-comers comment of:
"Intel, like a lot of other people, is more than welcome to try to design great silicon for this project and this mission, and we've been working with them to help them do exactly that."
Such bravado reminds me of the
original OLPC mission
, since changed, that said they were open to others producing a low-cost laptop too. But this time it may be different.
Joel Hruska reports
that One Laptop Per Child should be ready to change chipsets soon:
In short, the OLPC XO is currently running on a CPU core that doesn't even qualify as a 5th-generation Pentium-class CPU. Intel, in contrast, is talking about building an OLPC system based around either modified Celeron processors or the upcoming dual-core Silverthorne, built on a 45nm process. The company seems to think it can do this in a cost-effective manner.
Now "cost-effective" would be the operative phrase as rumors have Intel's design being either modified Celeron M's (A100 or A110) or the new Silverthorne processor for ultra mobile computers (UMPC's), neither of which can currently match the AMD Geode in price or low-pow performance.
Either way, the XO-2 design will be different from the XO-1, and maybe radically so. While the current "$100 laptop" design is perfect for high-heat, high-dust, low-electricity environments, Walter Bender is thinking big.
Probably thinking exactly along the lines of Mary Lou Jepsen's OLPC product roadmap that includes a whole quiver of low-power computing XO spin-off products.
But until we have a XO-2, or XO-1 in full production for that matter, I have to agree with Christopher Dawson's conclusion on the Intel vs. everyone battle for XO chipsets:
This degree of competition [between chip makers for OLPC orders] certainly bodes well for this segment of the [education] market, both domestically and abroad. With attention turning away from simply ramping up clock speed to reducing power consumption and increasing mobility at very low costs, even kids in the states should feel the ripple effect from this ongoing rivalry.
Oh yeah! May this be the end of bloatware and the beginning of real developing world technology exploration.