This just in via the Boston Globe: One Laptop Per Child is selling XO laptops like hotcakes!
Nicholas Negroponte has just announced a OLPC Peru sale:
[T]he government of Peru has signed a contract to purchase 260,000 of the $188 machines. "It was notarized five minutes ago," he said, adding that the Peruvian order will make it easier for the foundation to sign up more countries to the program. "It's momentum."
Adding to his momentium is an scaled down
OLPC Mexico
:
Negroponte also said Mexican billionaire Carlos Slim has purchased 50,000 of the machines for distribution in his country. "He's an old friend, and he's been involved in this from the beginning."
Now while that isn't the
250,000 XO laptops
Slim promised earlier, it's better than a Nigeria, where OLPC's partner is now
pushing Classmates with Windows
and OLPC is fighting a
patent infringement lawsuit
.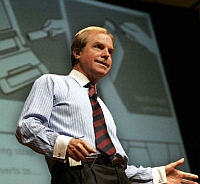 Negroponte is smiling now
But back to the good news. I think OLPC has sold 600,000 XO laptops in the past two months:
Congratulations, One Laptop Per Child! While its not the 10 million that Nicholas Negroponte promised in 2006, it's a damn good start.