their implementation
of the emerging 802.11s standard on Marvell wireless firmware.
Walter Bender says
:
Polychronis Ypodimatopoulos set up a mesh demo where each laptop takes a picture at random times and tries to send it over to all other nodes in the mesh network. He has a web page where the aggregate data are displayed, based upon the number of hops between nodes. You can click on the pictures and see what the respective direct neighbors and nodes further than one hop are for the next node
Now that sounds damn cool, eh? That sounds like the OLPC XO
mesh network "just works"
and there will be full out-of-the-box mesh functionality on the Children's Machine XO.
But if you follow the netwoking listserv you can get a whole other impression of the XO computer. There, firmware and software bugs are exposed and fixed on a daily basis, with one example that suggests a larger issue. None other than Vint Cerf is having trouble getting his mesh network up and running: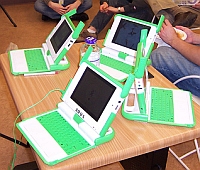 Here's the mesh problem...
I have an OLPC at home, using an unprotected apple express that is slaved to an apple base station, I can see my home network but double clicking on the icon for this apple express unit does NOT result in network connectivity. Do I need to invoke some kind of unix CLI mantra to actually get this system to link to the apple express?
Now if one of the founding fathers of the Internet needs OLPC tech support to run a XO WiFi mesh, how will children, teachers, countries be able to install and maintain wireless WiFi mesh networks in their schools and homes?
Will OLPC become a global tier 2 customer support center no matter how easy the mesh becomes to operate? Or will there need to be a strong WiFi mesh networking user support system in each county? Another social side of mesh. If so, doesn't that sound like the cornerstone of an implementation plan?