With the Egyptian government blocking Internet access during the current protests, people are thinking of ways that different technologies could work around this digital blockade. A few have thought to point out that the peer-to-peer wireless mesh networking of the XO laptop from OLPC could be used to route around a government's Internet ban.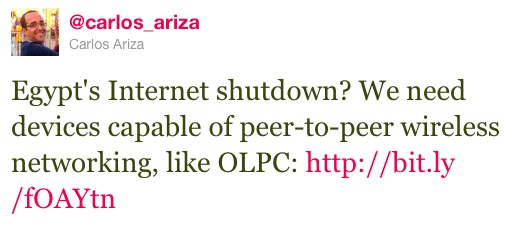 The current XO mesh networking could not support Egypt's 83 million people. The XO mesh network can't really even support a classroom of students, let alone the 13 million current Internet users in Egypt. After approximately 25 connections, the mesh is overwhelmed with packet collision and loss.
See, each mesh hop adds propagation delay and multiplies radio traffic and congestion, reducing performance and when the density gets high enough, the system simply breaks down. In fact, the mesh networking became such an issue that the XO-1.5 doesn't support mesh networking anymore, only ad hoc networks.
Now a real scalable mesh networking solution is available that could link disparate computer users to an Internet uplink, provided one existed - that would be FunkFeuer Free Net.