OLPC is claiming they've achieved the impossible under the direction of Mary Lou Jepsen:
Our display has higher resolution than 95% of the laptop displays on the market today; approximately 1/7th the power consumption; 1/3rd the price; sunlight readability; and room-light readability with the backlight off.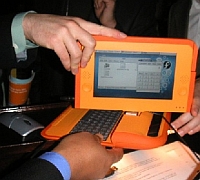 Or at least as a dual-mode
prototype
that
theoretically
can be produced in standard LCD factories, without major changes.
If able to achieve production level scale, this is BIG NEWS and will revolutionize laptops worldwide.
We'll have laptops that last 21 hours instead of 3 hours and prices will drop by 1/2 as displays are the most expensive part of a laptop today.
That might not be OLPC's main aim but it would be its most technology shifting achievement.