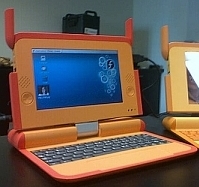 TG Daily
reports that Digitimes says Taiwanese computer manufacturer Quanta will be the OLPC manufacturer.
That Quanta President Michael Wang says Ouanta will start production in the first quarter of next year lends credibility to rumors that the OLPC laptop is facing production delays and contradicts China Wall's announcement that it will be making the OLPC's in Shanghai.
No matter who makes the fabled $100 dollar laptop, they're gonna need orders first. No word yet on firm commitments from any country for that.