I was gently reminded by a caring volunteer from the laptop.org wiki that OLPC never purposefully misled people by stating officially that a solar alternative was available for the XO.
However, it is easy to note by googling through blogs, forums and watching the enthusiastic Nirj Deva, the British congressman, that his belief that these are "sun-powered computers" was, if mistaken, quite widely shared.
The hope and somehow built-up expectation through the media and coffee-shop development experts was that a lot of juice would be provided either by yo-yos, hand cranks, solar panels, or gang charger. So many original supporters did complain or start dreaming too big. People felt misled, though staunch advocates of the official party line will tell them they tripped themselves.
So much so that one good day I got tired of it, and volunteered to get solar on the XO, if for no other reason than to stop the whining and accusations of vaporware. If they wanted solar and the deities didn't give it to them, they could get it from this here Prometheus.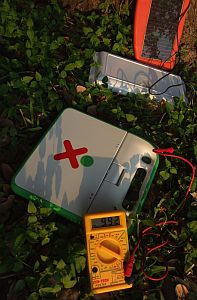 Solar powered XO laptop
Why wasn't solar developed by OLPC Central?
My theory is that it simply fell under the radar, and then got lost everywhere except press commentaries. Fact is, any self-respecting hacker can fix to feed 12 volts to an XO with half an hour of effort, using some odd parts from the garage 'tronics cadavers. This very same kind of hacker tend to feel that such simple pursuits are not worthy of their Matter of Britain time, and maybe they are right.
Not being blessed with that much self respect, and needing to clear the garage too, this was just up my alley. It also helped that I wanted to achieve enduring fame in OLPC's hallowed halls, now that the xoctoplug had been published by someone else. You know, they would say, there goes Yama, the sun god! (actually I've been called a sun god - wiracocha - when I was a kid, but that's another story).
How to grok solar
Such a simple problem has somewhat simple solutions. I needed an XO, which I got after some begging around in Austin (thanks, Anne Gentle!). I needed a plug, since I did not intend to cut the plug off the brick, this being a loaner, and I needed a solar panel.
This last part was easy, I had been running a little research on the side for year and a half with a cheapo Harbor Freight 1.5 W panel, originally intended to help me run a desktop motherboard on solar, but I was stumped at the time by the problem of pulling both 12 V and also 5 V.
This was no longer a problem, XOs thrive in pretty much whatever you give 'em. So it was written, and it is the true truth. The fact that the panel had been all that time on my roof and still works just fine makes me trust these to recommend them to others.
The plug was the worst. It has been said that the power plugs for the prototypes of the XO came from a bag of components that had been given to Mary Lou Jepsen for free, from a discontinued North Korean-Contra project MIT had been developing in the 90's, and she used these because at the time the nascent OLPC could not afford to go to
Radio Shack for a few standard parts.
Well, I made that up, but it is possible that the real story, when finally gets told, will be almost as weird as that. I won't push further, because finally I went from friend to friend to find Richard Smith as friendly and helpful as they come. He describes himself as the "EC, battery, and power guy" of OLPC, and so I know that the issue is now in good hands, whatever happened before he took over the role.
So then one good day I actually had an hour available before sunset, I made myself a plug off some copper, a Bic pen and some glue, checked everything with my tester one last time, and went outside for the last 5 minutes of sun with a thoroughly discharged XO. I got the pretty orange LED coming on, but no time for more.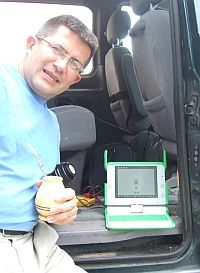 Yamandu working hard
Success
The XO would not power at all after the sun set, but that was par for what I expected from just a few minutes of solar rays.
Next day during my noon break I asked a colleague to come with me to the parking lot, hooked all together, and powered the machine.
He took a few pictures. First ever XO on solar sighted in the wild! Austin, Texas, 4/23/08 11:58. The shirt and yerbamate gourd are a salute to the valiant OLPC people in Uruguay, ¡Vamo pa'rriba La Celeste que no ni no! Sugar on Solar, April 23 11:58 am
So you did your stunt. What next?
Actually running an XO on solar in a parking lot of Austin is thoroughly meaningless if people cannot use this solution themselves. It's like if someone would dare to present the XO to the UN when supply is sparse, there is no ready instructional content and the mesh looks like a young lady's nylons after a rave. Nobody would do this, right? Except for the right reasons, and that's for another article. We all do owe a lot to Nicholas.
Anyway, I plan to offer some pre-assembled units and all data so other people can build their own or just buy from me. Reinvest the income in research and if any profit, 100% to solar for developing countries projects. I hope to be able to get some donations too, for even though I already have had 3 inquiries, it is unlikely this will become a real business, but who knows, this might be the XO killer peripheral.
Oh, and I also hope I will now be taken seriously for a couple developer's XOs.
The current (partial) solar solution would retail for under $30, and available as soon I get the good plugs, that apparently do exist for purchase. Maybe enough solar kits will be sold so I will be able to afford to buy the XOs I need on eBay :-)
Problem solved...
Well, no. The 1.5 W panel powers the computer fine but does not charge the battery. So I need to keep working. Updates in the XO Solar page of the OLPC wiki.