As Give One Get One donor, I was disappointed not to get an alternate power source for my XO laptop from OLPC, but I can understand its absence. In North America individual donors already have reliable grid power - other laptop battery chargers are not needed.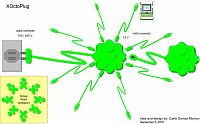 But in school environments, there is a need for multi-laptop chargers - a way for all the children in a group to power their computers during the school day without interruption. To fill that need, Carla Gomez Monroy of One Laptop Per Child is designing a different kind of gang charger, a XOctoPlug:
8 in one anti-electrocution and tangle-free XO power supply to be used in the classroom to improve safety, convenience and battery life.
I really like this design as it allows several kids to use one outlet, an efficient use of scarce plugs, and requires they sit in clusters, which promotes collaboration more than rows of desks.
Still, the XOctoPlug has the grid power limitation that limits its use in the developing world. There, even OLPC has experienced shocking electric power costs, and off-grid power is the norm. The original hand crank charger for the XO laptop was a good, if flawed idea. The torque of a hand crank on a laptop would be too much for even the OLPC's rugged design.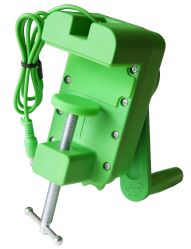 Enter FreePlay Energy, the inventors of the wind-up radio and the robust Weza foot crank power. They took the OLPC hand crank idea and bolted it to a desk and called it the Clamp Charger.
Freeplay claims that cranking the spur gear transmission driving a 3-phase alternator with 3-phase rectification at 130-140 rpm will yield a nominal 15VDC 1500mA output. In addition, it can be cranked in either direction. Quite an achievement, eh?
I wonder if you can combine both the XOctoPlug and the Clamp Charger for an off-grid experience for a gang of students? Or connect the Clamp Charger to a bicycle for a more efficient generator rotation?