Resumen en español al final del artículo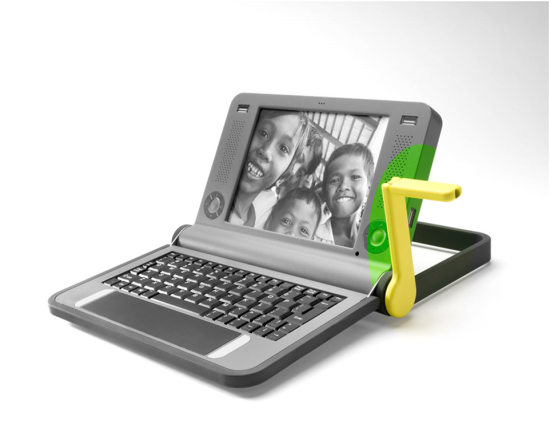 Over the weekend I was catching up on some reading of various olpc related blogs. In doing so I discovered that Laura Hosman's IIT team in Haiti and Sameer Verma and other folks from OLPC San Francisco had both recently found cool ways to repurpose the famous OLPC hand crank:
The IIT team turned them into mobile phone charger:
So what to do with the excess ones we had? We decided to repurpose them into cell phone chargers, since that seemed like a more realistic use for them: phones need less charging/use less power, charge on 12 volts, sometimes you just need enough power to make a short call or send a text, and in today's world, even out to the ends of the earth, where there's no reception and no powering source, people still own mobile phones! Also, the teachers at the EFACAP school had asked whether they could use the solar system for charging phones, and we felt it was something valuable to add in to the system.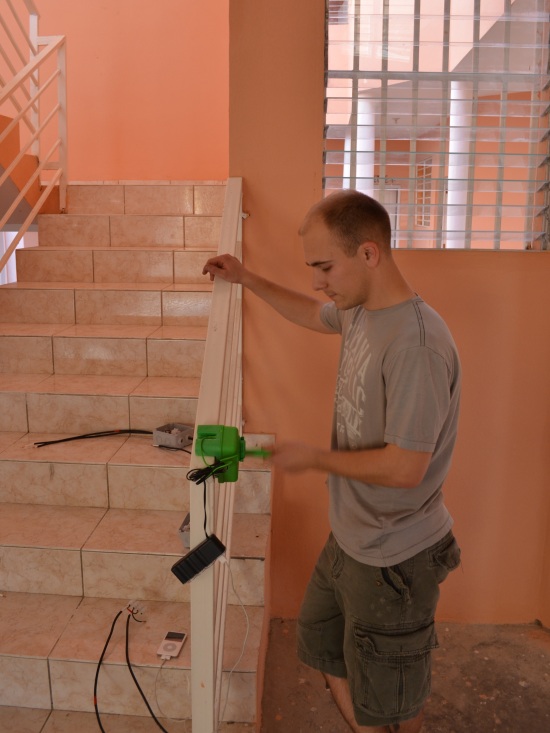 The OLPC SF team used a hand crank as a basis for a gravity charger which was inspired by an old clock:
On one of our usual visits to UCSF, I was walking by their clock, when it stuck me (no pun intended) that the clock is a large wind-up mechanism that stores potential energy by pulling up large weights to a significant height, and then trickles it into the clock mechanism to power it. You may have seen something like this in a cuckoo clock.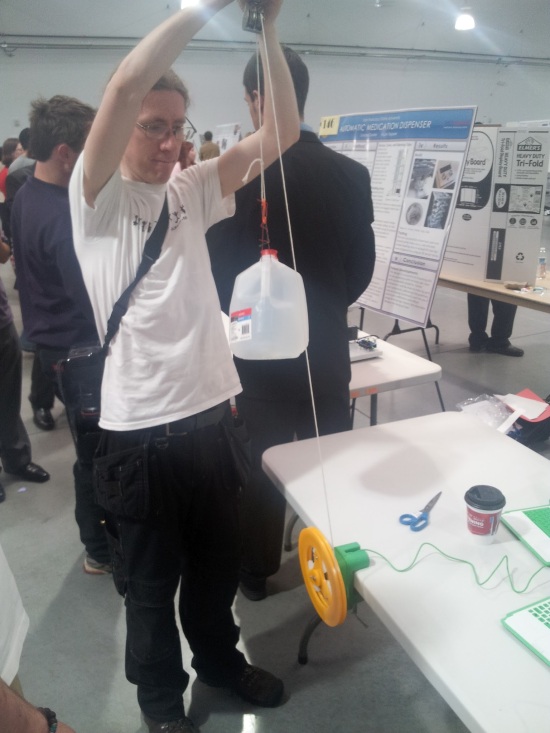 If you've also come up with or seen cool ways of repurposing the hand cranks then let us know!
---
Resumen en español: Este fin de semana yo estaba leyendo varios blogs relacionadas con olpc. Al hacerlo, descubrí que el equipo de Laura Hosman del IIT trabajando en Haití y Sameer Verma y otras personas de OLPC San Francisco encontraron formas interesantes para utilizar la famosa manivela de OLPC. Mientras el equipo del IIT lo convirtió en un cargador para teléfonos móviles, el equipo de OLPC SF lo utilizó como base para un cargador de gravedad que se inspiró en un viejo reloj.