In a surprise declaration, I am still trying to process, President Barack Obama has announced a massive deployment of XO laptops to every public school student in America - to both improve education and stimulate the American economy. While that's game-changing just in itself, here's the real kicker - these will be XO-1.5's made by Intel & Dell!
From his speech today at OLPC headquarters: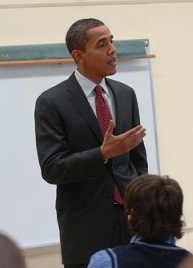 Obama in the classroom
We are going to rebuild American education. We are going to give hope to the children of this great land. We are going to reverse the destruction of our public education system, by harnessing our very student's ability to construct their own education, using technology.


This here is the XO-1.5 laptop, designed by MIT professor Nicholas Negroponte. It represents the American ingenuity and leadership we come to expect from our universities. We will make sure we'll have a new generation of technology leaders by putting these XO's in the hands of every public elementary school student. And this technology will be made right here in America.

I am proud to announce that my Administration has brokered a groundbreaking partnership between One Laptop Per Child, the organization behind the XO, Dell Computers, a leading computer manufacturer, based in Austin, Texas, and Intel Corporation of Palo Alto, California to build the XO laptop with all-American components, in American factories, putting Americans back to work for our children's education.
Apparently, Intel and OLPC have made amends and the XO-1.5 will be based on the Intel Atom chipset. In addition, as Quanta's exclusive manufacturing license for the XO expired, OLPC has made arrangements for Dell to build XO in its just-in-time assembly plants. Hopefully this change will also mean that XO's will be for sale on Dell.com in the near future.
But while I'm not holding my breath for individual XO sales, I am still short of breath thinking about this massive change in OLPC's fortunes. Just last week, we wrote in the OLPC Overview that with the recent refocusing, there were a few too many premature program obituaries.
Now its a whole new day for OLPC and America's educational system. The first day of April, when we can all dream of a new generation of Constructivist children across our great land.