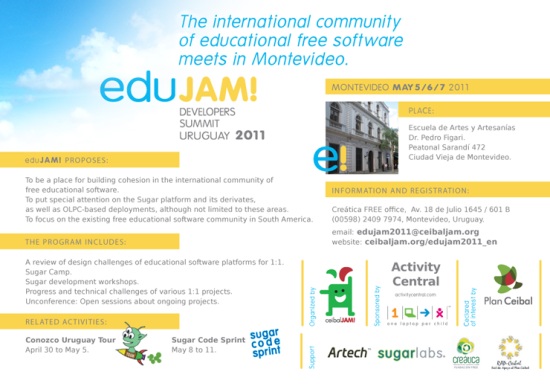 In late April and early May the previously mentioned eduJAM! summit and related activities will bring many people from communities around olpc, Sugar Labs, and other open-source education projects to Uruguay. Thanks to the very generous support of one of these volunteers I'll also be able to attend the event, making it my third trip to Montevideo in less than 12 months.
I'm very much looking forward to the event. First of all because it will be an opportunity to catch up with many of the people I had the pleasure of meeting during my trip through Uruguay, Paraguay, and Peru last summer. Secondly because it will finally allow me to put some faces to e-mail addresses of people whose work I've followed and admired for a long time. Last but not least the program for the ten days I'll be there is packed with exciting activities.
About a dozen or so people are arriving a couple of days early for the Conozco Uruguay Tour. As the name implies it's all about getting to know Uruguay. And I'm not just talking about delicious asado, red wine, and medio/medio at Montevideo's Mercado del Puerto. The itinerary is filled with visits of different schools, meetings with volunteers, and a variety of similar activities.
After this whirlwind tour the actual summit will take place between May 5 and 7. The details of the program haven't been finalized yet but let me tell you that I'm already learning a lot just in the process of submitting and organizing a session. Plus simply looking at the people who are attending you can be sure that good discussions will be taking place from dusk 'till dawn (and beyond).
After the main summit many of the people will be staying for another couple of days for what will be a high-energy Sugar Code Sprint between May 8 and 11.
It's probably not hard to tell that I'm very excited about this summit. In more ways than one the discussions at eduJAM! will influence the tone and agenda for much of 2011 when it comes to olpc and Sugar Labs. Hence I'll do my best to report on what's going on there, plus I'll of course be looking for some of those Spanish speaking voices to enhance OLPC News in the future. Oh, and if you're on Twitter keep an eye out for the #eduJAM hashtag which we'll be using for tweets related to the event.