With access to online maps, students can post photos of their town on a satellite map or follow a sea turtle's journey, perhaps beginning a future in city planning, tourism, or conservation.
Unfortunately, most XOs are on slow, shared connections far from map servers. The web's more interactive map applications would seem out of the question. With the help of Wayan Vota's Traveling XO, I set out to update the Map activity to meet these challenges.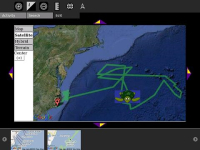 Turtle GPS in Map Activity
My main technical goals were to improve speed and add collaboration. Google's Static Maps and a few JavaScript methods can make an interactive map (clickable markers, double-clicking to zoom) even with low bandwidth.
A Jabber connection, which I tested with the Traveling XO, lets classes share a map and edit each other's markers. There are also options for classes to store or share their markers online.
Each marker can have an embedded photo, Google search, or Wikipedia article. The code wiki::Dragonfly embeds a Wikipedia article in Simple English, and wikiFR::Anisoptera embeds the article in French.
A maps library offers real-life maps used in shipping, environmental science, and medicine. The elephant and turtle-tracking maps have been the most popular.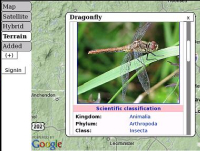 Embedded Wikipedia article
I would greatly appreciate your feedback
Nick Doiron is a Civil Engineering major at Carnegie Mellon University. He is also Curriculum Designer for the Boston-area nonprofit Hello Laptop, Hello World