I've had the privilege to meet some of the poorest people in countries like Uganda and Zambia during my travels over the last years. And the thing that I remember the most are that the poorest of the poor have a clear knowledge about the situation and often have a vision of how to create a better life for themselves, and especially their children.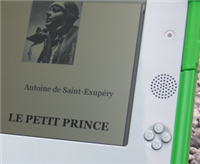 Educational content is the key.
When I asked them what the lack to reach the vision, most people say the same, education. Some of them have only gone one year in school, some have never attended.
I've followed the development of OLPC since several years in my role as a public educator, and I'm very inspired by the action to give the children of the development world the best tool we have for knowledge and commutation. But I'm getting frustrated about the fact that content often are overlooked.
While most initiatives, both OLPC and others, focusing on to spread the hardware, I would like to get more people to focus to provide the most innovative and pedagogical software to give opportunity for different levels of education and commutation over cultural boarders.
The people working to bridge the digital divide will be remembered as important for development and intercultural understanding in the 21st century. But the movement is very young and I can see large potential for new forms of collaboration between development activists, open source community and aid donors to fill the infrastructure with the right tools.
We need to sit down together and build the best software for primary educations like reading, writing and entrepreneurship, the best software for communication between young people over cultural boarders, and the best initiatives to spread the knowledge in the communities. All the software should be open source and under a public license.
Education are a key factor for development, with an education, it's easier to get a job, build a business and start climbing towards a better life. Let's take the next step and work for a world where everyone get a primary education. And where everyone have the opportunity to reach his or her full potential.
Jonas Eriksson is a public educator and activist, you can find his Web site at www.joneysworld.com.