olpc is an ambitious movement whose success will largely depend on the hard work of those that volunteer their time, expertise, and occasionally funds. Let's focus for now on those that will volunteer their time and effort to develop open source software and content. To really harness the power of volunteers to create open-source content for education, we need to think hard about what motivates open-source contributors in the first place.
Open-Source Software and content developers do what they do primarily for two reasons:
To "scratch their own itch." This means to solve a problem that bothers or challenges them. This can also mean creating something that they themselves consume.
The joy of seeing someone else benefit from their creation.
The Wikipedia Model Doesn't Work For Education
The Wikipedia model of ad-hoc user-generated content does not and will not work for OLPC. Wikipedians create content that they themselves are the chief experts on and heavy consumers of. Sure, they are proud to contribute to body of human knowledge but they are primarily driven to "scratch their own itch." One could argue that "Each shall scratch her own itch and eventually all itches will be scratched." Sadly this is not true.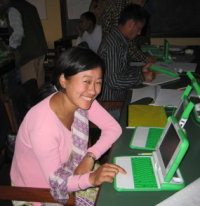 Connect Educators like Sangita...
Just compare the large number of individuals that contribute to the GNU utilities, the Linux kernel, Perl, Python, etc. Emacs has 119 core contributors while the fantastic GCompris has only two core developers, a program that I believe is even more important than the world's second greatest code editor/operating system. There are WikiJunior, Simple Wiki, and Schools Wikipedia but these projects are tiny compared to the Wikipedias of many languages. This is a crying shame.
Most olpc volunteers are technically-minded adults living in the developed world and frequently have personal ties to the developing world. By and large they are creating content for someone other than themselves so motivation #1 is not a factor. Motivation #2 is. Motivation # 2 is hard because it requires excellent communication between the creator and her intended beneficiatries. I believe that most olpc volunteers participate because they want to see kids and teachers benefit from their work.
Please read motivation #2 again, c a r e f u l l y. The joy of seeing someone benefit from your creation. But how do you know what will benefit kids and teachers in a faraway land and a very different socioeconomic contex? Most volunteers will not be full-time teachers nor kids from the developing world. By default, volunteers are likely base their contributions on false assumptions and there is a good chance their hard work will go to waste. But don't despair! Someone knows what is needed: The kids andteachers themselves. We just have to ask them.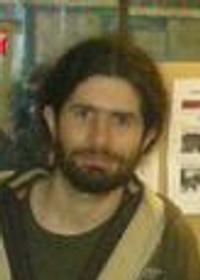 ...with coders like Tomeu.
To make open-source work for education we have to put volunteers in very close contact with kids and teachers in the developing world. We also have to limit the assumptions we make about what will benefit them and be careful not to impose our cultural biases upon them. The people in the best position to facilitate this communication between schools and volunteers are grassroots organizers.
Greg Smith, an experienced project manager, laid out the steps to build stuff people that need in an e-mail to the Grassroots mailing list.
Enumerated steps

1. Find a real user ready to communicate and work with you.

2. Line up volunteers and evaluate group skills and time.

3. Discuss with user the key challenges and pick one or two you want to address.

4. Come up with a design proposal and validate with users.

5. Code up a prototype or working example.

6. Run beta test, refine and gather feedback.

7. Deliver code and give great support in the early going.

8. Go back to step 1 or to step 6 and keep at it :-)
For our purposes, I think we should change the word "user" to "educator." By educator, I mean someone who works with kids on an almost daily basis in a formal or informal setting. Sometimes I get the sense from some in the olpc community that educators are a stodgy bunch that block real progress in education; that they are bulwarks of instructionism holding back our great enterprise. My own experience with Nepali teachers has been the complete opposite. They see the potential for ollpc and they are asking for -- demanding -- interactive geography lessons, competitive English games, multiplayer maths battles, Scratch tutorials, and more. Educators know their kids and their communities. We need to empower them in every way possible.
a grassroots strategy
Educator-Driven Development
That's whay I believe that olpc should embrace what I call "Educator-Driven Development," pairing educators with activity and content developers. But doesn't this constrain the content developers, limit their freedom of expression? In this model, educators specify the objectives and volunteers have complete freedom in meeting those objectives. The ultimate arbiter will be how useful the resulting content/activities are in a school setting. Nothing will motivate volunteers more than seeing their work benefit kids in a developing country, and possibly their younger siblings, aunts and uncles, parents, etc.
Educator-Driven Development places a heavy burden on grassroots organizers to manage this information flow. But there are a lot of dedicated people out there that I think are up to the task. A number of olpc grassroots events are in the works such as Grasscon, Grassroots Bootcamp, Content Jam, Game Jam . . . The planners of these events need to run through steps 1-4 ahead of time and then do step 5 together with their event participants. Without a list of real requirements in hand before your start your grassroots event, you're navigating a big ocean without a compass.