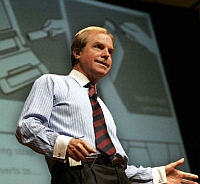 Nicholas Negroponte of OLPC
I am
Roland
, and I amazed what MIT Professor Nicholas Negroponte and his team have achieved so far. They have reinvented the laptop and tailored it for kids. They have reinvented its user interface and also tailored it for kids. The number of innovations and the new opportunities for education are fantastic.
One Laptop Per Child has based their project on a teaching method called Constructionism. Like OLPC's hardware and software achievements also this method is innovative and intends to boost the natural curiosity of kids. I understood - hopefully correctly - that Constructionism is about asking questions and looking for answers, about independent thinking, about having fun, about collaboration and about creativity and expression, about making things, being active and productive, about learning by doing and by figuring out new ways.
With Constructionism applied using a Children's Machine XO there are no clear boundaries anymore between school time and spare time because learning is fun and having fun includes learning. If this philosophy can be realized by the OLPC project the positive impact on the learning experience as well as on the learning success must be tremendous. Even more importantly it creates independent thinkers and makers instead of repeaters and imitators.
Wow! These are truly prospects worth investing your best. The software suite available now (browser, tam-tam, chat, video-chat, the mesh-network-collaboration etc.) supports most of these new ways of playing/learning. With those prospects in mind I have been curious with what equally innovative learning content OLPC might come up to interactively apply the above learning style.
I did not expect that the limited resources of OLPC would allow them to provide complete sets of learning content for all topics and all levels. But I assumed they would provide sample learning content in order to flash those new possibilities. These samples could then serve as inspiration for the creation of more content by open communities or education ministries.
I was looking for it but could only find hints about digital libraries of e-books (PDF- or DJVU-versions of textbooks) and existing open-source e-learning content for Moodle CMS that is planned to run on the school servers. There was nothing (yet) about learning content making use of XO's constructionist functionality.
On OLPC Wiki there is a call for content but there is no list of already submitted content. The wiki pages on content make the impression of being outdated and abandoned. There is not much going on.
I wonder what content the kids in the presently active pilot projects are working on. And what content is planned to be used after the large roll-out this fall. If this content is just e-books I must admit that this would disappoint me because it would leave the great opportunities of OLPC's hard- and software as well as Constructionism mostly unused.
In Prof. Negroponte's interview transcripts I just found statements of his that worry me:
"But, you can also delete everything that's on the machine. You'll find Logo, Squeak, and your favorite Media Lab constructionist-type programs. Different countries will have different textbooks in each country. Several right now are already translating or digitizing the text books. The text books will be on there [XO]."

"We do not get engaged in curriculum." "There have been lots of studies of those [pilot projects 6 years ago] and what I'm afraid you're looking for is an answer like "their test scores went up 20%" "

"...for me, education doesn't mean school and it doesn't mean teaching. To me what education means is the passion for learning. If I could build a world where kids are more passionate about learning and have a bigger slice of their day to engage in it, that to me is the solution."

"We very much want the child to use it [XO laptop] outside of school. Yes, they bring it to school; yes, it is an electronic book; yes, it is all these things in school, but we've gone after education in a very different way than most people who look at it."
To Professor Negroponte the OLPC XO when used in school is just an electronic book! But when it is used outside of school it is a collaborative learning tool. That's why he does not engage in curriculum and why he's afraid of test scores. It's because he only aims at unguided self-learning during spare time. What actually happens during school time seems not to be his primary concern!
There is not much happening on OLPC's content-wiki-pages because the kids will not follow any curriculum or work through any learning content in their spare time. They will learn by playing with peers, with the Internet or with the on-board software suite without much direction or guidance. In the classroom still traditional teaching will take place. Just the paper books are replaced by e-books.
I could not find any interactive content at OLPC because the mentioned e-books are not just secondary reference books but some are actually the primary teaching content which is being digitized in the target countries to date. That is also the reason why the roll-out plan is not such a big concern to OLPC's leaders since the teachers need hardly training to continue what they did before using paper books.
The only Constructionist activities in OLPC are what's incorporated in XO's hardware and software for spare time use but it is hardly going to be applied in the class room by trained teachers. Therefore in such a kind of classroom teaching using XO's with either Sugar or XP or even Classmates is unfortunately no big difference. Only in spare time the additional capabilities of the XO are going to be used.
I understand that many children in poor countries spend much less time in school than in 1st-world-countries. So learning during spare time is basically a good thing. But why not try to improve learning also during school time? Or why not try to implement a curriculum and interactive content giving self-learning in spare time more direction. And if OLPC is to improve learning why not measure at least some aspects of it by test scores?
Wow, this is quite a change of perspective! That is not how I perceived OLPC until yesterday. And I am afraid that's also the case for a good part of OLPC's supporters. Do the ministers of the target countries share Professor Negroponte's perspective or did they even enforce it? Don't they want to make better use of the XO's during school time? How about the US schools intending to apply XO's? Will they also want to use them just as e-books?
Professor Negroponte, please, tell me where I misunderstood you and which of my interpretations are wrong.