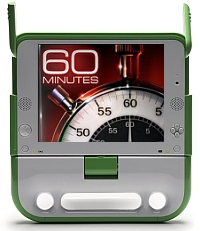 Are you in the USA? Or have access to the American infotainment juggernaut of content? Then you might want to turn your attention to the CBS News program "60 Minutes" this Sunday, May 20th.
Famed reporter Lesley Stahl will be covering MIT Professor Nicholas Negroponte's progress with One Laptop Per Child, his dream of one-to-one computing as an educational boost, a way for children in the developing world to "learn learning".
Ms. Stahl will have on-location reports from OLPC testing in Brazil and with 13 million viewers on average, the coverage of OLPC should be a major boost in profile for the project.
Lesley Stahl will also be interviewing an obsessive follower of OLPC XO advances, a technology in development expert who publishes the informative and influential OLPC News. Yes, not only am I going to have a cameo on 60 Minutes, there should be a distinct focus on OLPC News as the medium by which those interested in the "$100 laptop" can go for independent news, information, and commentary.
If you've been a lurker, just watching the discussion from afar, this is your chance to enter into the debate before it gets crowded with new voices. You can write for OLPC News today!
Get your thoughts on the XO computer together and email a starter post. Now, more than ever, your ideas and opinions are welcome and will be heard.