For those that do not know, journalism is not a life long replay of "All the President's Men". No, it is more "Gladiator", bloodspot practiced by those who gloat over drawing first blood and bemoan when others make a kill first.

Today's example is Silicon Valley Sleuth, who had a scoop with the first working One Laptop Per Child prototype video. Since then, they've fallen a bit by the wayside on breaking OLPC news, and yesterday, after being scooped on not just one, but two OLPC laptop names, got a little bitchy.
In the Really, it's 2B1. Or how the OLPC naming nightmare illustrates the flaws of the blogging echo chamber" post, they say nasty things about OLPC News, like:
In a classical case of information getting malformed in the blogosphere, the Aljazeera story was picked up by the One Laptop per Child News blog. Last Friday it spread to Arstechnica which incorrectly states that the OLPC has "announced" the CM1 name.
Um, SVS, You might wanna get your own information straight. The OLPC News story was first picked up by
Engadget
, and
then
Ars Technica, but only after everyone confirmed it on the official OLPC Wiki.
Silicon Valley Sleuth doesn't stop with the mudslinging there, though. They take the next step and accuse OLPC News of bad reporting when we were just relaying what Walter Bender, OLPC President of Software and Content, changed on the official OLPC wiki:
The OLPC News blog further added to the confusion, baselessly claiming that the CM1 name has been retired – and Engadget runs its blogging Xerox without bothering to check the information.
Actually, SVS, you might wanna check your own sources before you run a story. Your post about OLPC has its own misinformation. You confuse "likely" with "settled" when you say:
The One Laptop per Child project has settled on "2B1" as its launch name.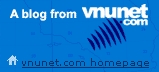 When Walter Bender, if he can still be trusted,
says to VnuNet
, your parent website(!):
"While we haven't settled on a final launch name, it is likely to be the 2B1"
Next time, before you get your panties all in a wad, check
OLPC News
. Trust me, it's not so hard. That way, you, we, your parent website, and even the "blogging echo chamber" can work together to keep the OLPC leadership straight.