The end of the year tends to be a time of reflection and retrospective for many people. So I too thought about writing up my thoughts on the most important events in 2008. There's plenty to talk about with OLPC's (largely just perceived) move to Windows XP, Walter Bender leaving OLPC and subsequently founding Sugar Labs, olpcnews announcing the "post-1CC era", the announcement of the XO-2 design, the release of Sugar 8.2, the return of G1G1 at the end of the year, etc.
However while going back through some of the posts we published in 2008 I realized that it would actually be more interesting to look ahead rather than back. Especially since we know that many of our readers have been with us for quite a while and therefore already know about all the drama anyway.
So here's my personal list of things I want to read and write about when I look back at 2009 on December 31st, 2009: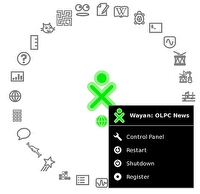 Sugar
To say that Sugar had its ups and downs in the past 12 months would be quite an understatement. Sugar Labs and the larger Sugar community will have to deal with a lot of challenges in 2009. A lot of work still needs to go into establishing "Sugar" as an identity that's separate from OLPC.
Even hanging out at Linux conferences and meetups a lot of people simply talk about the XO and its custom OS. The fact that Sugar has gone through adolescence and is quickly growing up has largely gone unnoticed so far.
Additionally there's been talk of OLPC wanting to focus on "deployability" with its first 2009 software release which naturally leaves less resources to put into improving Sugar itself.
The task of evolving Sugar is also an enormous one. Software release 8.2 was an impressive demonstration of how much progress can be made within a bit more than 6 months of development time. Yet it's obvious that a lot of things still need to be done.
The "group"-view is quite useless at the moment. The Journal needs a bunch of tweaks and improvements to be usable over long periods of time. Collaboration is still somewhat iffy in many scenarios. Running Sugar, and it being really usable, on platforms other than the XO is still a pain in the rear. The number of cool educational activities or simply awesome and fun games needs to improve dramatically. I could go on and on and on...
The point here is that people have already started working on many of these open issues. 2009 will be the year to see whether things are going in the right direction and progressing at a good pace. Walter Bender and everyone else working on Sugar will certainly be busy for the foreseeable future.
Learning
All too often people forget that OLPC is really a learning-, rather than a regular hardware- or software-, project. The success (or failure) of OLPC won't be measured in bootup speed, geek appeal or number of units sold via Give 1 Get 1. The key ingredient that OLPC has to get right is learning.
This also happens to be the toughest challenges that OLPC is facing. Sure, setting up IT equipment (and maintaining it!) in some of the remotest areas of the world isn't easy by any means. But I'm confident that these and similar challenges can be overcome with reasonable effort.
However the effective use of computers in education has been something that people have been working on for several decades. Yet the results, to the best of my knowledge, remain largely inconclusive and are very dependent on a variety of local variables. Yes, sometimes things work out great and at other times they don't. What's missing is a clear and generally applicable recipe of some sort that explains how to make IT work in education.
Coming up with this recipe, or at least an understanding of such a recipe might broadly look like, is what OLPC and the large olpc community should really be focusing on in 2009!
Results
The key thing that we need to hear about in 2009 are results. To me the core question here being: "How does OLPC affect learning?" This is after all a learning project and while 6 to 18 months of use - depending on when the particular deployment or pilot was started - won't yield any conclusive scientific evidence there will be the first solid indications of what happens when OLPC gets introduced in schools around the world.
OLE Nepal has done a great job of reporting on the progress and evaluating the results of the work they're doing. However this only represent 135 children and their teachers in a single country. What about the other 300,000 children that have received XOs so far according to OLPC?
I'm especially interested in what's happening in Peru and Uruguay since these are currently the largest and longest-standing deployments with more than 100,000 XOs having been distributed in each country respectively. What will the initial results of One Laptop per Pacific Child be? OLPC Oceania's concept paper certainly shows that they've invested a lot of time and thought in planing their deployment so it will be exciting to see how things work out for them.
I also expect a number of independent, interesting and critical papers to be written about OLPC as more people with a background in education and international development start looking at the project and its impact on communities around the world.
In my mind it's these results, more than anything else, which will determine the future of OLPC.
At the end also allow me to mention what I think will, but shouldn't necessarily be, a topic that many (including myself;-) will probably spend too much time talking about in 2009: the XO-2.
What do you want to hear about in 2009 when it comes to OLPC? Let us know by posting a comment below or by submitting your own article as a Guest Post.