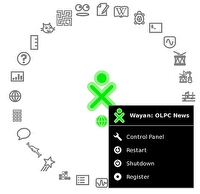 During the XO Laptop Upgrade Weekend here in Washington DC, I've been taking notes on the OLPC Learning Club DC impressions of One Laptop Per Child's Software Release 8.2.0 for the XO laptop.
The overwhelming verdict: Finally, the XO laptop really works!
Now why would the parents and children of our humble group be so amazed by the changes that 8.2.0 brings? Let me give you the run down of our experience with what feels like a whole new computer:
The Upgrade Process
First and foremost, the 8.2.0 upgrade process is easy, especially if you upgrade off a USB memory stick. Gone are the days of dealing with Terminal - its all automatic. That said, there was consensus that its still more fun to upgrade as a group. Yet there are two reasons not to upgrade in haste. You will loose any saved data, so be sure save it to another USB memory stick first. Next, you'll also loose any extra programs, like Skype or Opera, and will need to re-install them again.
Sugar User Interface
"Wow!" That the overwhelming response from DC. We're amazed at how much easier and faster everything works. From the simple inclusion of a Control Panel, to a fixed XO Chat, to the advanced Neighbourhood View where different types of connections are shown differently, the user interface is much more intuitive. Or as one parent said "I can use the XO now!"
Expanded Content
The XO now can claim to come with a decent set of Wikipedia content with both internal and external links to more data (photo). By covering the basics, OLPC shows what can be done to help children learn even when they are offline. There are also User Guides and even complete XO manuals to show new users the XO's tricks.
Hardware Changes
The once useless right mouse button now activities a number of "right click" actions, effectively doubling the mouse functionality. Another new functionality is the WiFi manager in the XO Control Panel, where you can turn the mesh on or off. This is a great way to extend the XO's battery life or even use it on airplanes. Best of all, we now have instant suspend and resume:
New Software Bugs
Its not all smiles and happiness in One Laptop Per Child land - there are a few bugs showing up in Release 8.2.0 that need fixing. One of the favorite programs for children, and a great teacher of letters and spelling is
XO Speak
, and now it works only sometimes. It's often silent, especially when you want it to comfort a sleepy child. Also, there are reports that
XO Get
doesn't work from Sugar and you need to go back to Terminal to add new programs.
New XO Hacks
I know that right about now there are geeks tweaking their XO's to get the most out of this build, but we found the star of Release 8.2.0 hacks to be Kevin Cole, who already prymaided his Home view in the first minutes after upgrading. Now let's hear him show off his radomized Home view:
Now Its Your Turn
If you have an XO laptop, its time for you to joint he rest of us and throw an XO Upgrade Party of your very own. No matter if you're in a group or not, you'll never be alone. The entire OLPC News Forum is ready to help you with Sugar and Linux. As you do upgrade, be sure not to be shy.
We all want to know your XO Upgrade impressions!