Resumen en español al final del artículo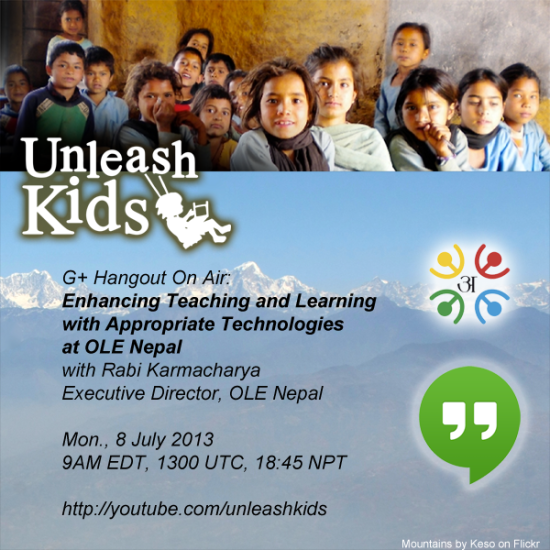 Tomorrow, July 8, Mike Lee (of OLPC Learning Club DC fame) and myself will host Rabi Karmacharya (OLE Nepal's Executive Director) in an Unleash Kids Hangout On Air session. During this week's preparations for the call Rabi mentioned some of the topics he will discuss:
I would like to discuss the challenges we have faced, and lessons learned in trying to take OLPC from a pilot project implemented by a grassroots organization to a national program under the Ministry of Education. More than the technical aspects, I would like to discuss the administrative, bureaucratic and logistical challenges in the process.
For the Hangout on Air Rabi Karmacharya will be joined by Subir Pradhanang (Program Manager) and Basanta Shrestha (Network/System Engineer).
I can't tell you how excited I am about this session, especially given that I volunteered with OLE Nepal in Kathmandu for 3 months back in mid-2009. This will be a great conversation and I'd recommend to tune in live at youtube.com/unleashkids on Monday, July 8, 2013 at 9AM EDT / 1300 UTC / 18:45 NPT. Alternatively you can watch the recording on YouTube afterwards.
---
Resumen en español: Mañana, 8 de julio, de Mike Lee (de OLPC Learning Club DC) y yo hablaran con Rabi Karmacharya (Director Ejecutivo de OLE Nepal) en un episodio Unleash Kids Hangout On Air. Para el Hangout en Air Rabi Karmacharya estará acompañado por Subir Pradhanang (Director de Programa) y Basanta Shrestha (Ingeniero de Sistemas y Conectividad). No puedo decirles lo emocionado que estoy por esta sesión, sobre todo teniendo en cuenta que me trabajé con OLE Nepal en Katmandú como voluntario durante 3 meses en 2009. Esta será una gran conversación y les recomiendo a verla en vivo en en youtube.com/unleashkids el lunes, 08 de julio 2013 a las 9 am EDT / 1300 UTC / 18:45 NPT.