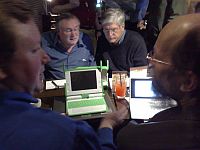 OLPC News SF Happy Hour action
The much-loved OLPC News Happy Hour returns to San Francisco this Thursday, October 2, with a special meet-up at 21st Amendment.
In addition to our usual geek-out with XO laptops, we'll also be discussing the recently released Total Cost of Ownership (TCO) report that indicates laptops-in-schools implementation costs exceed $2,500 per computer.
While not OLPC-centric, the analysis of technology costs for Indian schools is a bracing reminder that no matter the device, operating system, or configuration, computers can still be prohibitively expensive for large-scale deployments in the educational systems of developing countries. I am hoping that you'll join me for libations and conversations around this hot-button topic.
So if you are interested in One Laptop Per Child, or the whole technology in education debate, there is only one place to be this Thursday:
OLPC News SF Happy Hour
Thursday, October 2 from 6-8pm
@ 21st Amendment
563 2nd Street, San Francisco (map)