While I am not always a fan of Microsoft's actions around technology in education, I do have to give them credit for hiring my friends Vital Wave Consulting to do a 5 year Total Cost of Ownership (TCO) study on introducing computers into Indian schools that focused on multiple different configurations, platforms, and even operating systems.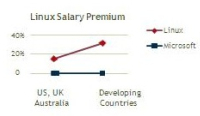 Today, I listened to Vital Wave give a presentation about the report (you can download it here) and I was struck by the "Linux Premium".
Technologists in the developing world who know Linux command a 15-30% salary premium over their Microsoft-only peers. This should be the new rallying cry for the LUGs in every growing economy: Learn Linux, Make More.
Still, that wasn't the real bombshell. It was the overall per-seat TCO for computers in schools, no matter the configuration, form factor, or operating system. Let's have JamesU explain:
For me, the huge, eye-opening takeaway from this work isn't that Windows and Linux cost about the same to put into school labs in poor countries, it's that the 5 year cost of ownership for doing so is about $2,700.

That's right, $2,700. At a time when the press likes to write about whether the $100 laptop costs $200 or $300, economists who live in the countries where these systems are being deployed went out, assessed actual computer implementations, and came back with an estimate that the actual 5 year ownership cost is about 10 times as much.
Or almost three times as much as
OLPC News calculated
two years ago using only the collective estimations of the OLPC community. Our "$1,000 laptop" estimation doesn't look so crazy anymore, eh?
Yet one laptop per child programs on a countrywide scale now look even more insane. At $2,700 per child, exactly which poor developing world country can afford to implement at a 1:1 computer-to-child ratio on a national scale?