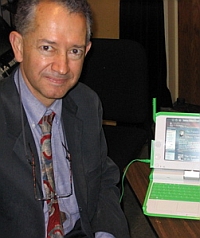 Pedro Hernández Ramos
I've been thinking about this question for a while, and have been working on a draft for an article (aiming for an academic journal) for the last few months - in fact, since November of 2006, shortly after Walter Bender presented at the "Silicon Valley Challenge Summit" I helped organize at Santa Clara University where he showed us an early production unit fresh off the assembly plant.
In the comments thread to one of Bob Kozma's postings here ("OLPC and Economic Development"), Julio Cartaya argued that OLPC deserved recognition for bringing the world's attention to the plight of hundreds of millions of poor people around the world (I'm paraphrasing).
I agree with the sentiment, but what I'd like to do in this posting is present an excerpt where I state one reason from an educational technology perspective in support of why OLPC should succeed. (In subsequent postings I will offer more reasons, before switching to arguments about why it may (or should) fail.
So, reason #1: OLPC should succeed because of its commitment to technology designed in support of, and supported by, educational ideals.
The kind of technological innovation evident in the XO machine is required to expand and enrich the social conversation about why technology should be made massively available to support and enhance children's learning experiences in and out of school.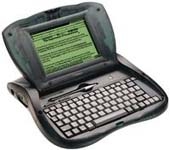 Unlike earlier attempts that envisioned users primarily - or only - in schools in developed countries (like the eMate from Apple was for a brief moment in the late 1990s), the XO is being designed with users from developing countries in mind first.
This shows because the XO does not take for granted the availability of infrastructure (such as electricity) nor the physical conditions of use typical of classrooms in the U.S. or other industrialized nations (such as clean, dust, free, often air-conditioned), and it has several features - including the main interface design - that are explicitly included because of the underlying educational philosophy (constructivism).
The last point deserves some elaboration. How can an educational philosophy such as constructivism influence the design of a laptop computer, both in hardware and software? For the hardware part, to begin with, the design assumes users who will use the device outside of the classroom, involved in activities that go beyond simple notetaking based on the teacher's lecture.
The ability to use the screen in broad daylight will be a boon whenever students are working on projects that involve data collection in the field, and the built-in camera will help students understand that they have a point of view as learners, that they can see and capture information from the world around them to construct their own understanding of whatever phenomena or subject matter they are studying.
On the software side, the design of the main user interface and the ability to easily see who is available on the mesh network is as radical a departure from the typical desktop interface as we have seen in a while. How does this relate to theory? Constructivism holds that the social interaction between learners allows each person to bring and share their perspective on learning.
Before anyone thinks that this is too esoteric, just think "wikis" or "shared blogs." When students of any age are able to grasp that there is meaningful learning to be gained from interactions with peers (e.g., reading their blog entries) rather than only from the textbooks and the teachers, they have gained a key insight from constructivist theory!
Currently collaboration is supported most often at the application level (such as having to use a browser to use a wiki), not at what we might call here the "operating system" level since from the moment the XO comes on it is possible for users to discover who else is available on the network.
Learning becomes less isolated when one knows that either physically (when the learning design actively supports interaction, as in so-called "jigsaw" activities in the classroom) or virtually (when meaningful options for either synchronous or asynchronous collaboration are available) the ability to interact with others for learning is real.
There are, of course, other machines in the market that are also targeting the education market, but I have not seen such a clear link between educational theory and design supporting the design of, say, the Intel Classmate or the AlphaSmart Neo2.
I will welcome comments and ideas regarding this point. Rest assured that if I include any of them in the article, I will properly acknowledge and cite my sources.