So the new Sugar on a Stick v0.84 is out and I gave it a try on the XO, installing the suggested Windows XP version.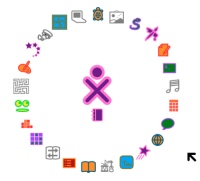 It is paramount to follow a few key actions:
Use the LiveUSBcreator version 3.6 or higher as older version are not XO-aware and will not work.
Do not boot a PC with the stick before you boot the XO.
If you use newer firmware (q2e30+) to hit esc after start and get to the OFW prompt and the type "boot" to boot. Otherwise SoaS will stay behind the boot animation and you will never see it!
SoaS on the XO boots really fast and you get to the familiar home screen, which is already populated with a number of applications. They all work. But be warned: you should not install SoaS as the main OS in your XO unless you are an experienced XO developer.
Noticeable Improvements
The immediately noticeable difference is the improved journal that now prompts for naming/renaming and addition of comments and tags for easier and more "logical" searches. Also allows you to choose with which application you open the file with (assuming that more than one can do it) and to send the file (assuming tat you have a properly configured machine).
The other nice thing is that if you open an application opens the last journal instance (assuming you did not rename it to something else), so you do not get 300 terminal entries... Of course if you want to save something eg a bookmark as a Browse entry, you have to rename it appropriately.
The other major change is under the hood. The full Fedora 10 foundation that allows for less complicated installation of mainstream Linux applications. Another nice feature is the "view source" option that allows you to see the code for any application and modify it if you want. It is similar to the Develop activity in but now is "just there".
Also a number of activities are updated to newer versions (that will not necessarily run under update 8.2, 8.2.1).
A Couple of Nuisances.
The microphone light is on and speakers do not work. To fix this, open the terminal type "alsamixer -V all" and mute (type "m") V-REFOUT (mic light) and External (speakers!). Also the XO will not shutdown. It goes to "system halted" and stays there. To really shut the XO down, just press the power button for 3 sec.
SoaS is totally unaware of the XO-hardware. Besides the two little things above, game buttons will not work (only the "O" game button will get you to Journal!) and many function buttons will not work (journal, screen brightness, frame button). The battery monitor will not work (just shows the initial level and never updates). The camera will not work (even if you install the not-included Record activity).
The SDcard and USB are not detected and if you mount them manually they do not show in the Journal. There is no power management (and the relevant control panel) and no software update panel. Some old activities will not work (but that's the activity developer's job I guess). Your hacks are likely not to work (at least till you find the right paths and still then is not certain).
So unless you are ready for a lot of tinkering or development, keep Sugar on the stick.
The major goal of Sugar 0.84.x is testing and developing. That's what you should do with it. It is clear that the XO was not at all on the scope of Sugar Labs at this stage. Being the first SoaS version the apparent goal was basic functionality and broad implementation.
Suggested Enhancements
The only feature that I think should be included in 0.84+ enhancements is the ability to use an XO-aware stick to boot a PC (mine stuck at eth1 configuration and then messed up the XO network settings). This is not possible with the current version of SoaS/LiveUSBcreator. Implementation will make work a bit easier for developers and certainly "allow the parents to see what their kid is doing" with their SoaS on another computer.
Now, it would be great if someone develops packages that you could just "yum install" and regain XO functionality. Should not be very difficult. The key bindings and battery monitor would be a good start, and camera (or a compatible version of Record activity) should follow soon after.

Till then I can only hope that Sugar 0.84+, among other things, will also be XO-aware. Hopefully, Sugar Labs will not do the same to the XO as OLPC did. OLPC abandoned Sugar development on the XO and although you can find ways to justify or explain it, it did not resonated very well.
Similarly one can think of reasons to justify or explain Sugar Labs not developing for the XO but this will be equally bad. If nothing else there is almost a million KIDS with an XO out there. They deserve better.
I'm not suggesting that SugarLabs will stop developing Sugar for the XO, I'm just saying that since current actions do not contradict it, I would like at least to see the opposite statement in black and white somewhere.
Unless, if we are to believe that they also think that "dual boot" Windows XP should be the way to go on the millions of XOs out there. I hope not
Mavrothal is a frequent OLPC News Forum contributor and loves to experiment with SoaS.