The recent layoffs of almost the entire OLPC software development team have been widely circulated, but not the implications for Sugar, the learning platform originally developed specifically for the OLPC XO but now available on various GNU/Linux distributions including Ubuntu, Debian and Fedora.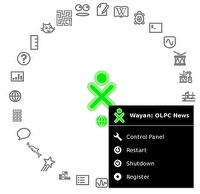 Here's where the Sugar project stands:
Sugar's development infrastructure is now mostly independent of OLPC, thanks to many generous partners (Ivan Krstic, OSU Open Source Lab, Free Software Foundation, prgmr.com, MIT Media Lab, Solution Grove, Collabora and Develer).
For about 3 months now, Sugar Labs has already been taking care of Sugar development with almost no support from OLPC (other than contracting the core development team until recently).
Sugar has not lost any of its full-time core developers as a consequence of OLPC's layoffs: All of the core team will stay around as unpaid volunteers while we're looking for new ways to finance their full-time contribution.
Today, development of Sugar and activities relies upon 20 active contributors.
Over the past few months, we have grown our community with new contributors, new partners and new distributors.
The rate of development seems to be increasing steadily as we consolidate our new community driven development model (we can obtain some support evidence from git).
Through the Software Freedom Conservancy, Sugar Labs is receiving some very generous support (although we're not yet able to credit individual donors).
While we do not plan to hire a development team within Sugar Labs, we're working to get some of our full-time volunteer contributors sponsored by external organizations.
Red Hat and Solution Grove are contributing with engineering resources and covering traveling expenses for some of our members.
The development cycle is proceeding steadily and Sucrose 0.84 will be released as planned in March.
We've been working to establish Local Labs, grassroots organizations which, in our mind, will fill up the gap left by OLPC in deployments.
It's starting to become clear that 0.84 is where we'll prove our credibility as a self-sufficient, community-driven project. See our Getting Involved page!
Submitted by the Sugar Labs marketing team