OLPC is "Refocusing" w/ Changes
In an email to the OLPC community, Nicholas Negroponte has announced a major retrenchment at One Laptop Per Child. The basic changes are:
50% cut in staff & pay cuts for the remaining staff
A shift to Middle East, Afghanistan and Northwestern Pakistan
Latin America & Africa to be spun off
Sugar to be spun off
A $0 laptop goal for LDC's
Development of the XO-2
Roll out a no-cost connectivity plan
Create one million digital books
We are quickly analyzing the reality behind Negroponte's message through the following conversations:
Be sure to share you thoughts, ideas, voice in this momentous change for the OLPC organization and the future of the XO laptop, through comments or a Guest Post.
3 TrackBacks
To (finally) close up my "I want to believe" series on how things went wrong, and how things could go very right with the OLPC dream, let me offer some resolutions for the Foundation to consider for 2009. [more]
Back in March, I gave a talk for Engineers Without Borders about appropriate technology in development and used OLPC as an example. (My slideshow is here). The talk r... [more]
I pose an interesting question to the esteems Open Source software development community - do you get better FOSS code, more functional software if the developers are paid or unpaid? I ask this because Nicholas Negroponte put forth a very counter-intu... [more]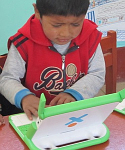 OLPC Feature
OLPC Peru: The Impact 2 Years Later
The educational results and debate around Inter-American Development Bank's randomized control trial on OLPC Peru
Add your comments today!
Tag Cloud
OLPC News Categories
Commentary
Content
Countries
Hardware
Implementation
Internet
Laptops
People
Prototypes
Sales Talk
Software
Tablets
Use Cases
Discussions
Now I have watched the entire video. OLPC 1.0 G1G1 was designed for collaboration especially usi …

The sale to the US(or EU) market would have required the kind of logistics that were later used …

Is you expierences and use of the XO-1's documented anywhere? Are you part of the OLPC Support g …

Bob, thanks a lot for sharing your experiences!

At 6:00am on day one (is it day zero) folks from our Presbyterian Church ordered a total of SIX …

I don't see how selling the XO Tablet in Walmarts will help in any way. Both in terms of the dev …

Phew, you certainly know your developmental psychologist whereas I had to look up Howard Gardner …

Maybe the real switch to consider is the reference to Howard Gardner and the (pedagogical) theor …

Well, on the one hand the XO Tablet is definitely an attempt by OLPC Association to cash in on t …

I share your scepticism about the sparse info and internet posting about the xo learning tablet. …

Indeed! :-)

April's fool!

I had no idea that you and D'Avril were already in touch... Maybe we organize a presentation abo …

I know, this forum is closed but still...
Thanks for reading OLPC News!