OLPC is "Refocusing" w/ Changes
In an email to the OLPC community, Nicholas Negroponte has announced a major retrenchment at One Laptop Per Child. The basic changes are:
50% cut in staff & pay cuts for the remaining staff
A shift to Middle East, Afghanistan and Northwestern Pakistan
Latin America & Africa to be spun off
Sugar to be spun off
A $0 laptop goal for LDC's
Development of the XO-2
Roll out a no-cost connectivity plan
Create one million digital books
We are quickly analyzing the reality behind Negroponte's message through the following conversations:
Be sure to share you thoughts, ideas, voice in this momentous change for the OLPC organization and the future of the XO laptop, through comments or a Guest Post.
3 TrackBacks
To (finally) close up my "I want to believe" series on how things went wrong, and how things could go very right with the OLPC dream, let me offer some resolutions for the Foundation to consider for 2009. [more]
Back in March, I gave a talk for Engineers Without Borders about appropriate technology in development and used OLPC as an example. (My slideshow is here). The talk r... [more]
I pose an interesting question to the esteems Open Source software development community - do you get better FOSS code, more functional software if the developers are paid or unpaid? I ask this because Nicholas Negroponte put forth a very counter-intu... [more]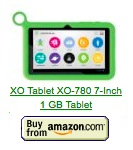 XO Tablets for Sale
Buy Your XO Tablet on Amazon.com
OLPC is selling the new XO Tablets on Amazon.com for just $149. Buy yours today!
Discussions
Change the world of technology as it is happening every day because we are enjoying the new tech …

One thing I forgot to ask in my article - for anyone else who has an XO Tablet - whats the story …

Hi, the xotablet is saying: unfortunately, xo home has stopped.
what does it mean. It no l …

You need to consider inflation.

$100 of 8 years ago are more than $150 today after real …

Hey Caryl

Just wondering if you can do a follow up on your first mail, am torn between a …

wow. haven't seen thepete in a few years. Nice to see the commentary. I wish there was FLOSS app …

Just as a thought regarding the asence of good writing software... ABIWord allows text input fro …

Great questions: projector, optical mouse, standard keyboard. Not yet familiar with mini- USB co …

Review addendum

A friend asked if a keyboard or mouse could be hooked up the XO Learning …

I looked at projectors that Brookstone offers. If the projector uses HDMI, the XO Tablet will wo …

Very grateful for this meaty review and intend to chew on it thoroughly in due time. Interested …

Hi, Guest Writer.
Thanks for the comprehensive review.
I am trying to get XO1s but h …

I find this blog post to be filled with opinion and somewhat short on useful (read: objective) c …

I know, this forum is closed but still...
Thanks for reading OLPC News!