Do you like to watch others manipulate software? Do you yearn to see developers tweak a UI in real time? If you are the nine people worldwide who would enjoy seeing a software developer run through their own product, then you need to see Dreamer ant, OLPC/Google Summer of Code's Manu Cornet's blog.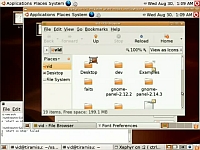 There, if you look closely, you'll find his
Summer of Code video report
of his Sugar OS for the One Laptop Per Child program.
I know it is riveting, I know it's mesmerizing, I know you you'll be transfixed by the 10 minutes of video set to music with subtitles explaining what he's doing. I know because I was.
Okay, I was transfixed for the first 12 seconds before my eyes glazed over, but then again, I am ADD and nothing bores me more than someone else running through a script at "normal" speeds. Manu, next time, be quick about it.
Still, I gotta hand it to the guy, his work is impressive and the UI is damn cool.