Yesterday, Tim Li, CFO of Quanta Computer, the Taoyuan, Taiwan-based original design manufacturer of the One Laptop Per Child 2B1 Children's Machine, estimated that Quanta's sales for the project will be as much as $1.3 billion next year in a short Bloomberg interview focused more on its overall plans for the Changshu factory that Quanta will lease for OLPC 2B1 production.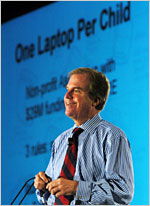 8 million reasons to smile
Earlier Quanta Computer President Michael Wang announced a 12-month shipment goal of 10 million OLPC laptops, and if we doi the simple math, that comes out to $130 dollars per laptop.
Now let's go to Nicholas Negroponte's "AMD Global Vision Conference" presentation and see what his most recent price quote would be:
The anticipated price for the 2007 model is $138, going to down to $100 by the end of 2008 and getting to $50 in 2010, Negroponte said.
Again, if we do simple math on the first batch of sales, OLPC will have an $8 margin on every laptop sold. $8 doesn't sound like much, right? And who could disparage One Laptop Per Child for making back some of the $30 million it's spending on laptop design?
Here's one last math calculation for you: $8 x 1 million units per order = $8 million dollars per order.
Now that is a nice little income stream for a nonprofit with nine principals listed on its website. Yes, there are more employees, all collecting paychecks, and there is rent and all the other costs of doing business, but if OLPC and Quanta Computer hit their 10 million unit sales projection, that would be $80 million dollars of income in a single year.
And didn't Walter Bender just say:
"One Laptop Per Child is a nonprofit association. Our mission is to get laptops to children. We sell laptops at cost, so whatever they cost, they cost."
.