Oh how we've slagged the Classmate PC on OLPC News. We've sure had our fun with Intel's reference design for low-cost computing for education. In fact, sometimes, we've even been downright dismissive of Intel's efforts to counter OLPC's hardware.
But now I'll have to stop. Why? Because Intel is playing a strong game of catch-up. With it's newest Classmate PC designs; the "clamshell" and the "convertible", Intel has met... Wait, dare I say it? Yes, Intel has surpassed the XO laptop.
The Atom chipset
First off, Intel has really shifted their strategy on low-power processing. Five years ago, I remember begging Intel to even consider shifting from high-power, high-end, and utterly unsuitable Pentium chips. Then Intel realized that on their current power profile, they'd run out of global electrical capacity before the company saturated the potential PC market.
From this the Atom chip was born - a disruptive low-power innovation that's upended the developing world computing market. Where we once scrounged old technology to make relevant technology, we can now buy appropriate hardware off Amazon.com.
Clamshell form factor
When the ClassmatePC was first introduced, I felt sorry for the Intel folks. You could tell it was rushed to market to counter OLPC and it lacked the polish you'd expect from a leading IT company.
Over time, they've refined the clamshell to be more respectable. It is now a nice student laptop, and its specs are better than the XO-1.5, it's equal to any netbook, and with its ruggedization, tougher than any netbook. That matters when careless kids drop it on hard floors.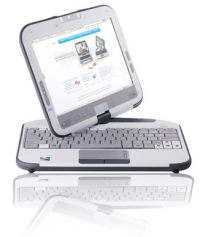 Smoking hot convertible
Now the convertible ClassmatePC is a real show stopper. With a screen able to swivel around to become a tablet or eBook reader, it's got equal to or better form factor functionality than the XO, and its anti-bacterial keyboard sounds perfect for grubby kids.
But it's not a kid's computer. Unlike the XO, I can see the convertible being quickly adopted by high schoolers, even college students with its adult sized components. In fact, I feel that the convertible ClassmatePC has applicability far outside the classroom.
Essentially, the convertible ClassmatePC is an affordable ruggedized laptop, a cheap Toughbook, which could be used by everyone from rural health care clinicians to emergency first-responders.
And unlike an XO, you can buy ClassmatePC's in any amount, for any reason.