Thursday's news that Amazon will be running G1G1 v2 starting in late November certainly made quite a splash. I've seen north of 50 news-stories on news.google.com and within 24 hours we also had two major Austrian news-organisations inquire about the details at OLPC Austria.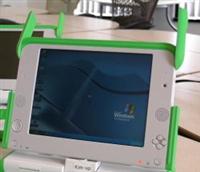 No Windows XP for G1G1 v2
While details on major questions such as price are still unknown we've now received confirmation about another issue that had many people (and journalists) confused: the G1G1 laptops available via Amazon will be using Sugar, there will be no dual-boot or Windows XP version.
The details emerged in an announcement posted to wiki.laptop.org by OLPC's Product Manager Kim Quirk on Saturday:
"As it has been reported, One Laptop per Child will sell its XO Laptop on Amazon.com in late 2008 as part of a global 'Give One, Get One' (G1,G1) program. Although the first iteration of the 'G1,G1' program was extremely successful and sold more then 185,000 laptops, the delivery of the laptops in the USA did not run as smoothly as we anticipated. Selling the laptops on Amazon.com will provide us with the resources to process and ship the laptops globally in a timely fashion.
In addition, contrary to some media reports, it will be a Linux-based XO Laptop that will be offered as part of the global initiative and not a dual-boot machine running both Windows and Linux." (emphasis mine)
What immediatedly struck me when reading the announcement was the mention of "a global 'Give One, Get One' (G1,G1) program". But before you get too excited (like I initially did) you have to realize that G1G1 2007 was also "global" in the sense that the given-laptops went to children all across the globe. This could be just a minor linguistic detail however it could potentially also be an indication of G1G1 v2 (as it's now apparently called) being available outside the United States.
In the end I believe that this is about as much information as we're going to get before the marketing campaign leading up to the actual start in late November takes off. And that of course leaves plenty of time for rumours and speculations...