Just a few days ago, we reported that the future looked bleak for OLPC Thailand. It seemed that the project's close ties with Thaksin Shinawatra - the caretaker Prime Minister ousted in this years coup - coupled with the incoming ICT minister Professor Sitthichai Pokai-udom's apparent distrust of open source projects had put paid to the little green laptop's Thailand prospects.
Not so it seems. Today we discovered that it may all have been a misunderstanding - the ICT minister thinks OLPC is great!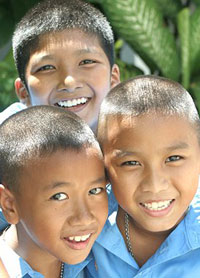 Happy Thai School Children
As before, our Thailand information comes from Songphan Choemprayong's English language blog
iTau's Dirt
. There he's reporting that members of the Thailand OLPC team met with Dr. Sitthichai to discuss the project. Songphan says of the meeting:
Four major topics were reported: the background of the project and the status of OLPC in Thailand, specifications of hardware with demonstration, specifications of software, and the travel report when the team went to MIT.

The minister said the project was not clear in the previous government. There was no budget allocation and recorded information. Thus, he did not know anything about the project officially, except from media. After the meeting, he thanked the team to give more information so he could see the overall picture of the project. He said he see this project is beneficial and he will support the project. However, he emphasized that he is not the only decision maker who can directly approve the project. He is also willing to meet Professor Nicholas Negroponte when he comes to Thailand in December.
Unfortunately for us, these quotes reference a Thai language blog - Blognone (oh, what we'd give for a Thai translator), so we can't verify for ourselves. Bearing in mind the original piece is written by an OLPC Thailand team member - leaving the possibility that the report may be spun somewhat - the ICT minister appears to be saying that prior to the meeting, he had no verifiable information about the project. As a result he had been forced to rely on media reports when considering what to do about it. However, now that the current ICT minister has more information about the project, he is said to be happy to climb on board and back the project. This seems to vindicate previous assertions that OLPC Thailand had been Thaksin's pet project and when he left power, all the plans went with him.
If these reports are true, it is a very interesting turn of events; what a difference a couple of days has made!
We'll have to wait a bit longer to see precisely what happens now, but it seems that the doom and gloom surrounding OLPC Thailand may have lifted somewhat. The country may not be a dead cert for roll out - the project is not in Thailand's 2007 budget - but the prospect of Thailand eventually receiving laptops may have improved immeasurably.