The Chicago school district purchased and is implementing the Teachermate, a new low-cost supplemental aid developed by non-profit Innovations for Learning for students in 500 schools in grades K-2. You can read more about it on the article by Engadget as well as on their website. Some of the really cool features and forward thinking of the Teachermate are: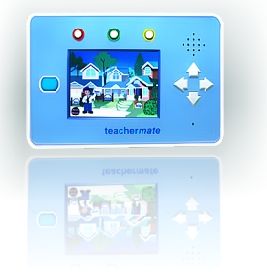 Ease of use
Attractive to young students (it looks like a Nintendo DS)
Syncs to an easy LMS by plugging it into the charging case in the classroom
Low price point (makes it affordable, even for struggling school districts)
Durable enough for a 5 year old
It is a low powered computer and not a console so it should be easy to develop for.
I am Christopher Segot. I have been in the eLearning field for just over a year and have been following and working with innovative platforms like the OLPC XO, most notably I developed and implemented an eLearning supplemental tutoring service using the Asus EEE PC with strong success.
I recently took a new position with another eLearning company who develops custom eLearning software based on the client's needs (we are already offering solutions for wireless phones, DS, and the Wii). What I find so interesting about the Teachermate is that it looks like it will be very easy for the students to use and for the teachers/administers to implement (both very key features) and while it does not have all the really cool features that the XO does I am most impressed with the fact that they have actual sales. To be fair the XO is very well designed for its originally intended audience, but my concern with the entire program is that there seems to be no curriculum or programs to help these remote schools use them. Just giving the students the computers is not enough.
One of my favorite quotes from Wayan's 60 Minutes interview is:
"If you hand a child a violin or a piano they can make noise with it, right? But will they be able to make music? And if you give a child a computer, they'll be able to operate the computer but will they really be able to learn without having a teacher, whether it's formal or informal to help them along that learning path?"
This is so true and one of the reasons I believe the Teachermate was adopted was the fact that there was a complete solution offered. For the OLPC XO to be successful I feel there are a few things that they really need to consider:
Subsidizing their philanthropic goals by selling to US schools / teaching companies that have budgets and/or grant money (we can't expect the price to go to $50 but as a company $250-$300 per unit falls into just cost effective enough, if they are able to add a tax break for the increase I feel that many education companies would be even more interested).
Collaborating with curriculum firms to develop content that will work on the XO (many schools do not have the resources to put it all together, so providing a more complete solution would be attractive to the education administration).
The success of an easy to implement server project combined with an easy to use/maintain LMS to make sure there is content for the students to work on and track their progress.
Ease of use is key for somebody not familiar with computers they can be easily frustrated and give up unless it's very easy for them.
Alternate OS/GUI offered based on the needs of the intended target but still follows the basic collaboration of Sugar. While Sugar was developed for people who have never used a computer, some clients may be interested in something that follows the basic principles but looks/feels like a modern computer as the user may have worked with a computer at a library or used one their distant friend may have had.
It also needs to be fast, at a minimum it needs to have a progress bar. Since the core audience isn't familiar with the specifics of the technology they get frustrated and impatient easily, usually hitting other buttons thinking that something is not working. More so in the USA where my 10 year old gets impatient if it takes her more than 45 seconds to download a complete game on her DS when sharing with somebody else (where I would've been excited if it took only 45 minutes when I was her age downloading much simpler games off the local bbs).
The toy look may be good for the primary schools, but once the students are in middle and high school it really needs to look a little more modern for it to be taken seriously.
Educational content!
I am very curious on how the Teachermate will perform and what academic achievements it will generate, but I feel that the OLPC XO is a very strong product that could take some lessons from products like this and use them to grow the XO into a more accepted education tool.