I am Yama Ploskonka and I love Constructivism. I was in Teachers' College in Uruguay during the mid '80s, at the time when this was the latest buzzword in town. Nobody really knew what Constructivism meant, but it sounded good, empowering.
Twenty years later I was hard pressed to try to explain the concept to a teacher of English in Istanbul. Turns out that Ankara had ordered all of them to start using a constructivist point of view in everything, as of the next semester, and he had little idea on what it meant and how he was going to manage to stay out of trouble.
I really enjoy it mostly because its discourse embodies so many of the high double-speak that was part of my French Literature training. It's useless, but there's a je ne sais quoi that makes it sound quite enticing. Well handled, constructivism can seem to be All That Is Good, and those who oppose it made to look like the forces of darkness. The main problem with constructivism is that a child cannot just re-create civilization on his own.
Teachers are required
It is a basic law of nature that a huge portion of random changes will be for the bad, very few for the good. This becomes an exponential notion as the concept gains complexity. A child "learning" (sorry, "exploring") off an XO has as much practical chance to develop a coherent complex construct as the proverbial horde of monkeys writing Shakespeare. This is one of the reasons we have teachers.
Their duty is to teach, guide, orient, mentor, in short, to get the kid to do what he ought and stay away from what he should not mess with. The best teachers empower, actually care for each kid's individual giftings and figure out what is best for that kid to be doing at a given moment and stay away from snake oil and one-size-fits-all. It is very hard work, very satisfying, and all in all, very uncommon.
A teacher that would let kids lose to discover life on their own is in my book very irresponsible, even if the kids are under the guardianship of an XO. Yes, there are occasions when a kid would be better off away from some teachers, yet things are intrinsically flawed if the general expectation is that the kid will then be able to figure out civilization by himself. When we need something to actually happen, constructivism will not do.
When a task needs to be achieved by many unprepared people with an expectation of specific results and a timeline, then we need to revert to good 'ol training and instruction, because "exploring" won't get us anywhere. Close to all'uns heart, a most clear example of this we see during XO deployments. There we need teachers who will be able to use the green things to some profit, technicians that will keep information running, a highly rated expert in communications to do the two-step on a tin roof.
We cannot afford to go around "exploring". At the least it would take forever. When the rubber hits the road, we need things that work, techniques that give results, training that enables and builds skills and produces, people with knowledge to step in and transfer that knowledge to others by instructing them on what works and what doesn't.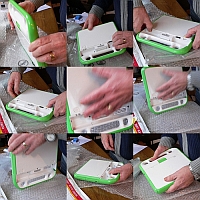 Learning on the XO laptop
A One Laptop Per Child Challenge
I publicly challenge Nicholas Negroponte and OLPC to be consistent with their constructivistic ideology and rely on constructivism to do deployments to prove their idea breathes. Yes, to have otherwise innocent people rely on the XO to solve their real world problems and get things going through unhindered exploration, hopefully without starving or getting electric shocks.
OR, honestly admit that training and instruction have an important place in the OLPC future, not as a poor relatives, but actually like the way to provide results, and thus incorporate a training/instruction mindset as the backbone of the OLPC.
Who knows, that might be the one thing that will save the project. There is a future for constructivism and the OLPC, but that has to do with gifted students and playtime for the rest - an article on that soon.
Oh my, they already did try doing grownup things through constructivism, and that got us the G1G1... (OK, this last line I put just as a silly snide, but there's a bit of truth there.)