I am Charbax, of OLPC.TV. I think that Intel and more recently Asus has been getting a lot of attention from bloggers and the media about their Intel ULV-powered Windows XP-ready XO-alternatives.
A lot of bloggers and news media are reporting that the Intel Classmate PC costs $225 and that the Asus Eee costs $199. Some bloggers are saying it wouldn't make sense for a government or anyone interested in cheap laptop computers to buy a AMD Geode-powered thin Linux running XO laptop when you could get a fully featured Windows XP laptop running on an Intel chip for $20 or $40 more.
But what are the real prices that Intel would charge a government that would like to order 1 million laptops? Does Intel at all plan to manufacture that many Classmate PCs when they have just announced the lower power and hopefully lower cost Menlow x86 processor?
Back in January, Intel was saying that it's Classmate PC really cost over $450 to manufacture. Suddenly by the middle of the year, we hear:
Intel's "Classmate," manufactured in Taiwan, costs 285 dollars and the price will drop to 200 dollars at the end of the year, Intel spokeswoman Agnes Kwan told AFP.

Several thousand units have been shipped to Brazil, Mexico and Nigeria, she said, and the target is 100,000 laptops by December. And Pakistan has ordered 700,000 for 2009, she noted.
Can Intel be trusted on its intention to manufacture cheap laptops in large quantities anytime soon? Or would their spokespeople only be trying to influence bloggers and other media into saying that Intel's solution costs the same as the XO? And do so without ever planning to mass manufacture the first generation of Classmate PCs.
When a government is in talks with Intel about the Classmate PC, probably that Intel provides them with small quantities for testing, but are those small quantities intended really a sample of what Intel wants to mass manufacture, or are the Classmate PC just there to make it look like Intel has got an alternative?
Many bloggers have talked about the Asus Eee supposedly being available soon at $199 and $259. Asus and Intel jointly made that big presentation of their OLPC-competitor at Computex in Taiwan several weeks before Intel finally announced that they were joining OLPC.
Recently at the Intel Development Forum, Asus admitted that most of the initial shipments of the Eee are likely to be the "mainstream" $369 configuration. In these times where mass manufacturing of the first really cheap XO Linux laptop is imminent at Quanta's factories in China, for Intel and Asus it is all about getting as much publicity on blogs and in the mainstream media.
But are they really preparing a cheap laptop alternative, or are they just after slowing down momentum that the XO is getting? Quanta is Asus main rival in the laptop manufacturing business in Taiwan. AMD is Intel's main rival in the x86 processor manufacturing business.
Are we dealing with real honest competition here from Asus and Intel? Or has it mostly been so far a mere game from Intel and Asus marketing department, getting bloggers and the media talking about their OLPC XO-alternatives which aren't seriously going to be manufactured?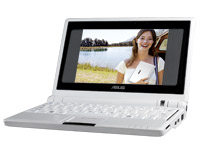 I think that the Eee will mostly be available in the $369 or $399 configurations, cause I really don't think that Asus can manufacture and sell the Eee at $199. That was probably a made-up price which they said back in June that they would sell limited quantities of the Eee to governments in developing countries, thus basically selling Eee at a loss in small quantities to governments.
To feed some of the bloggers, Asus might ship very limited quantities of the cheaper Eee model before Christmas, just so that they can keep having bloggers talk about it being an OLPC alternative, most probably Asus doesn't plan to sell large quantities of the Eee at $199 anytime soon.
Asus and Intel probably are hard at work on the Classmate-2 and Eee-2 for 2008 to use the Menlow processor. That second generation Asus/Intel laptop due in 2008 hopefully will have a better battery life, really be low cost this time, although Intel hasn't said much yet about the price of systems to use the Menlow processor. And why wouldn't Intel and Asus use the OLPC's revolutionary sunlight readable low cost screen for their next design?
Though one cannot know if Intel and Asus really are ever going to be interested in shipping large quantities of cheap computers, making smaller margins and cannibalizing their existing market of expensive laptops that provide both PC industry companies such as Intel and Asus and their retail and distribution partners with large profit margins on each laptop sale.
Are Intel and Asus at all interested at this time to start shipping low cost laptop computers, making small margins at large volume?