With OLPC in the midst of its Give One, Gone One developer program, we're starting to see who is in and who is out at One Laptop Per Child's 1CC headquarters. Below is the list as best as I can confirm: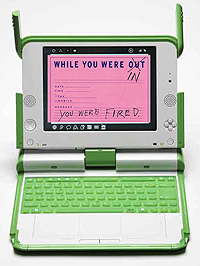 No longer OLPC employees:

Still on the OLPC payroll

Nicholas Negroponte
Samuel Klein
Ed McNierney
Seth Woodworth
Chris Ball
Richard Smith
Mitch Bradley
Who else..?
If you have more info, please let me know in comments or email. For all the laid off OLPC staff, feel free to submit your resumes to me. I'd like to have the honor of making a master post of all who are available for hire. I for one would give each a great recommendation.
In fact, I know of great job opportunities, in Nepal and San Francisco If you're willing to relocate.