It's not all gloom and doom in this global recession. I have got a hot, hot job opportunity for the right uber-geek. If you've got the skills we have got the bills (or at least some bills). OLE Nepal, the NGO implementing Nepal's OLPC deployments in partnership with Nepal's Department of Education, seeks a new Chief Technology Officer (CTO) to start in spring/summer 2009. Take note that this position is with OLE Nepal and not the One Laptop Per Child organization in Cambridge, MA.
The CTO oversees all technical aspects of the OLPC deployments in Nepal. This includes the development of interactive learning activities, an E-Library, a 4-person team of network engineers/sysadmins, and 11 wacky full-time volunteers. We don't want your charity. We will provide you with a salary that can support you and your family comfortably in Nepal. We prefer Nepali candidates but will consider talented applicants of any nationality.
What happened to the old CTO? I am firing him/me! I have immensely enjoyed my 2.5 years working in Nepal on this project and it is really gaining momentum here. Last year, we started the project with 200 laptops at two government schools. This year we will deploy several thousand laptops to schools across Nepal. We have a truly talented and passionate team here. I am leaving Nepal for personal reasons unrelated to this project.
Soft Skills:
You really, really care about education, particularly at the early levels.
You fail early and often. Over time, you fail better.
You find localization problems for linux and various types of digital content fascinate you. You dream in Unicode.
You not only believe in the Agile Manifesto, you live it.
You love the Mythical Man Month so much that you have a picture of Fred Brooks on your wall.
Bloated engineering frameworks like J2EE and SOAP make you nauseous. PHP and Perl make you feel good and kind of dirty at the same time.
You have significant experience working with open-source communities. Your open-source colleagues describe you as "diplomatic" and "practical." They do not describe you as "vitriolic" or "religious."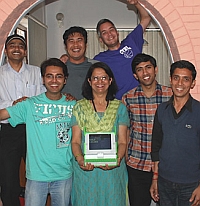 Can you handle these guys?
Technical Skills
You have a broad knowledge of web development
You are an avid linux enthusiast. You have successfully compiled your own kernel or at least tried and failed several times.
You have several years experience managing software projects. You are familiar with revision control systems, unit testing, refactoring, etc.
We want some with a tremendous passion for technology and education. You don't have to be an expert in any particular area but you have a proven ability to teach yourself new technologies.
If you're interested send your resume to jobs _at_ olenepal DoT org together with the following special assignments. I will not consider applications that do not complete these assignments.
Tell me all the ways I am screwing up as CTO and what I should do instead. don't hold back now. I am serious.
Tell me about one project that you completely screwed up and what you could have done differently. Tell me in gory detail what you did wrong. If you have never completely screwed up a project then you have never taken a risk. Save me the trouble and keep looking for a big corporate job.
Last but not least, working on OLPC isn't a job, it's a personal mission. If you're looking for a stepping stone to something else or a safe place to ride out the global recession, look elsewhere.
To learn more about OLE Nepal, check out our website, blog, and the wiki page for Nepal.
Bryan Berry is the co-founder and current CTO of OLE Nepal.