Come November 12th, when the OLPC Give One Get One program starts taking orders for XO-1 computers, guess who will be managing the distribution of 25,000 Children's Machines for One Laptop Per Christmas Tree?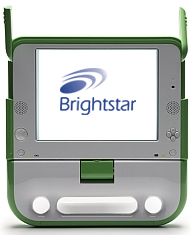 In what may be the smartest move by One Laptop Per Child to date, the XO computers will not be distributed by OLPC, eBay or even CompUSA, but Brightstar Corporation, which specializes in customized distribution and supply chain solutions for the cellular phone and mobile phone market.
And not just in the USA and Canada either. One Laptop per Child and Brightstar have also signed a comprehensive global sales and distribution agreement to take advantage of Brightstar's position as the largest distribution and supply chain solutions company in the world. As the press release notes:
Brightstar will help OLPC manage the many complexities of entering diverse markets - which can include different proposal and purchasing processes, financing and currency constraints, lack of infrastructure, and more.

Brightstar provides such sales and distribution services today to the wireless and consumer electronics industries, serving customers via a vast network of sales, distribution and manufacturing facilities in 49 countries on six continents. One out of every 20 wireless phones in the world is delivered via Brightstar's distribution network.
Interestingly enough, it was actually Brightstar, not OLPC that submitted the school laptops proposal to the
Ceibal Uruguay RFP
. It's also Brightstar that will be
contracted by LATU Uruguay
, the government entity in charge of Ceibal, to supply and maintain XO computers.
It was also Brightstar that joined Google, Red Hat, AMD and News Corp., as $2 million dollar founding sponsor of One Laptop Per Child. An investment that is now paying off handsomely for both OLPC and its new XO computer distribution partner.