Do you remember back when Greg M. Lamb said the following about XO mesh networking: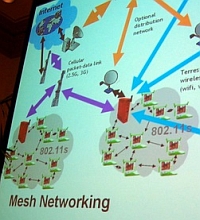 OLPC mesh networking design
Built-in Wi-Fi antennas that automatically create a "mesh network" with any other XO computer within about one-third of a mile. A screen displays icons showing the other XO computers within range at any given time. The mesh also means that if any one of the linked computers has access to the Internet, all of them will.
That's when we hoped that OLPC mesh networking will "just work". For a while, it did, mostly. On the XO-1 laptop, you could share the Write and Record activities with anyone running a Jabber server. But now it seems the very aspect of mesh networking is gone.
FlatLandFarm is hacking on an XO-1 and XO-1.5 and had this experience with the mesh networking functionality:
I have two XOs standing side by side. Will they start a mesh without me doing anything? No they don't. Froggy displays some obscure Mesh networks it has discovered but does not offer to connect with them.

Neither Froggy finds Hulk nor Hulk finds Froggy. I then connected both Machines to my WLAN. Suddenly they see each other. Not exactly what I had expected from a Mesh that "just works".

Maybe the problem is that each of the machines is running a different version of the operating system.:
Froggy: xo-1.0 | Fedora OLPC release 9 (Joyride) | Sugar: 0.82.1 build 802
Hulk: xo-1.5 | Fedora OLPC release 10 (based on Fedora 11) | Sugar: 0.84.16 build 124
After doing a bit of research on why the XO-1.5 couldn't connect to an XO-1 over WiFi, he found this startling fact: "The mesh feature indeed is not supported anymore by the xo-1.5. No wonder that it does not work."