In a recent chat between Mike Lee and Marina Zdobnova, they discussed the possibility of a One Laptop Per Child deployment in a Washington DC metro area school: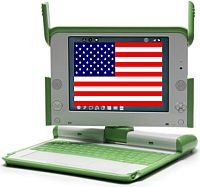 polyachka: So what are your future plans with DC OLPC club ?
curiouslee: We would like to do a deployment in the DC area.
polyachka: that would be good
curiouslee: But hope for that has dimmed a bit because of the change in DC govt.
curiouslee: Also, XOs are relatively hard to get and there are still many barriers with Sugar.
polyachka: barriers like what?
curiouslee: The Sugar brand and information materials need an overhaul.
curiouslee: Running Sugar outside of the XO (which itself is hard to get in smaller quantities) is difficult.
Of the many challenges that Mike and Marina list, the one that is the most obvious, with the easiest solution, is obtaining XO laptops. Right now, the only way to start an OLPC pilot is to buy XO laptops off eBay. This is a slow, expensive, and inefficient process that no school district would undertake when ASUS Eee PC laptops are so easy to buy.
So good luck to anyone who wants to start an OLPC pilot, anywhere - you'll be spending your first year just trying to get enough XOs for the students.