I'm Allen Majorovic and I am a computer programmer with a long-term, borderline obsessive interest in the public education system, the use of computers in education, trying to understand why neither works or works as well as it should.
Ever the optimist, I'm hoping the XO, despite some false steps, will be the computer that puts the world on the Internet in the same sense as the Model-T Ford is described as "the car that put America on wheels" and frees education from the institutional straight-jacket necessary in a public education system.
I've gone on at some length, in a number of comments, about what a bad idea it is to try to limit XO sales to the government's of developing nations. There are financial, political, social and practical considerations that argue against this course.
But if sales to government is an unbending requirement then why limit sales to governments which are poor candidates for large-scale purchases? The developed nations, particularly the United States, represents a fertile market for sales to educational institutions and many of the objections and difficulties inherent in developing-nation markets don't apply in the U.S.
With a nation-wide budget for public elementary and secondary education in excess of $550 billion (USD) the funding to purchase XO's is much more likely to found among wealthy, or even not so wealthy, American school districts. The American public education system has a long history of purchasing computers for use in education, as opposed to use in administration, going back into the late 1980's. Although the history of such purchases is, I believe, uniformly barren, the purchases continue.
Could the XO enjoy success selling into the US education market?
The low per-unit price would be an attraction although the indifference to results suggests price isn't the only, or even the main, consideration to a school district. More important might be the impression that the XO would make on technically naive school district elected officials: the XO looks like a toy.
That's not a criticism, just an observation. For my part I admire the design as an excellent example of designing for function. But that doesn't change the first word that pops into my mind when I see a picture of an XO: cute. They look more like something little girls would use to carry precious possessions.
That's unfortunate because for people who don't know better, particularly elective officials who don't know better, it's a real consideration. As in developing nations the funding for education doesn't just lie around in heaps waiting to be shoveled into any project that promises to improve education; it's spoken for.
Funding for anything contends with funding demands for everything else and in order to get funding a project must demonstrate that it's higher on the list of priorities then some other, potential, expenditure. Since funding priority is a political issue, impressions matter. Looking cute won't help.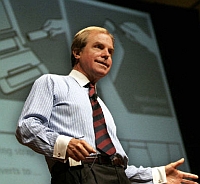 Dr. Negroponte: a selling point?
In favor of the XO is its connection with Nicholas Negroponte and MIT. As a selling point, especially to the elective officials who run school districts, this should not be discounted.
Where there are no objective measures of value one looks to the subjective measures. Approving a large-scale purchase of a designed-for-education computer with a pedigree like that goes a long way toward justifying the purchase.
Against the purchase of the XO is the enactment several years ago of a federal law - known colloquially as No Child Left Behind - requiring the demonstration of minimal levels of attainment in basic areas of education by schools. With the unwelcome requirement that educational institutions demonstrate a minimal level of competence has come a focus on methods of attaining the mandatory goals.
It's unfortunate that the XO wasn't available several years ago, before educational efficacy became important, since it has no record of assisting in the attainment of minimum standards.
In favor of the XO for sale to American public education is the overall more favorable climate for computers. Electric power is inexpensive, widely available and of good quality. Internet connectivity, while somewhat less comprehensive then some nations is, nonetheless, widely available.
Many, if not most, American kids will need very little exposure to the concept and capabilities of computers. They've grown up with them and computers are an unremarkable part of their daily lives. The distribution mechanism, along with maintenance support, is already in place.
The basic problem faced by supporters of the XO, whether in the US or in the developing world, is that public education decisions are political decisions with the outcome determined by political considerations among which, but not necessarily the most important of which, is what the XO can do to educate kids.
Although it's an opinion shared by relatively few people, I've come to be convinced that "the art of the possible",i.e. politics, is a poor mechanism for making decisions about education. It's said that a good political compromise leaves no one satisfied. The degree of satisfaction is a function of political power and kids don't vote.