Resumen en español al final del artículo
Rwanda which became the site of the largest non-South American OLPC deployment in mid-2011 recently saw the launch of a second, independent OLPC project. This new project is run by a coalition of four different German organizations which distributed a total of 100 XOs at the St. Jacob School in Kigali in November:
In Germany a group of dedicated organizations have teamed up to introduce 100 of these laptops for three classes at the St. Jacob School in Rwanda. The Stuttgart-based Care for Kids e. V. has taken the initiative and took over the project management, the Hamburg-based OLPC Germany e. V. has organized the procurement of the laptops, the Stuttgart-based WCE (Germany) e. V. took over the IT implementation tasks, and the Hechingen-based Children need Peace e. V. organized the activities at the school and the children's village in Rwanda. All organizations and members also strongly contributed in funding through donations.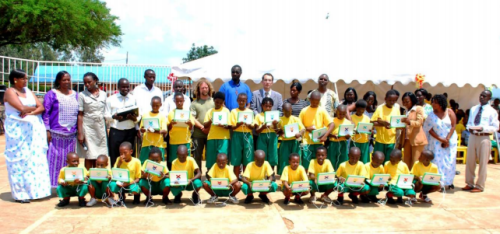 "Family picture" after handover of the laptops and the responsibility to the school
It will be very interesting to see how this project develops over the coming months and years. Given that the government itself is running the aforementioned 100,000 XO project which it plans to expand to 200,000 XOs by mid-2012 this will also be a great opportunity to compare the two different OLPC projects taking place in the country. Plus I'm sure there will be many opportunities for both efforts to learn and benefit from each other.
---
Resumen en español: En Ruanda, donde el gobierno está ejecutando el proyecto más grande de OLPC fuera de América Latina, se lanzó un nuevo proyecto independiente en noviembre del año pasado. Una coalición de cuatro organizaciones alemanas compró 100 XO para la escuela St. Jacob School en Kigali. Será muy interesante observar el desarollo del proyecto en los proximos meses y años y además es una buena oportunidad para hacer una comparación entre los dos proyectos distintos en el país. Aparte de esto estoy seguro que habrán muchos aspectos donde los proyectos pueden beneficiarse mutuamente.