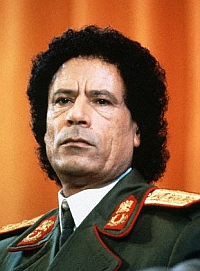 Muammar al-Qaddafi
Oh how times have changed for OLPC Libya. It was but a year ago that One Laptop Per Child celebrated signing a MOU with Libya for 1.2 million XO-1 computers, one server per school, a team of technical advisers to help set up the system, satellite internet service and other infrastructure for $250 million dollars.
It was but six months ago that Nicholas Negroponte revealed that the Gaddafi Foundation had cut its order to 500,000, possibly delaying the launch altogether. And today we've leaned that while OLPC has yet to ship a single Children's Machine to Libya, Intel is already equipping one Classmate PC per Libyan child:
Intel Corp and Microsoft Corp are supplying Libya's government with 150,000 rugged laptop computers that cost $200 to build and are designed to meet the needs of children in developing countries.

Intel spokeswoman Agnes Kwan said in an interview on Tuesday night that Libya's education ministry ordered the equipment in August and shipments began last month.
"So far it's going well. We're just a month into the deployment," Kwan told Reuters
Tyranny of the Or
". In fact, Intel vs. OLPC can be a
beneficial laptop competition
.
Of course to be a fair competition, both Intel and OLPC need to be frank about the cost of their laptops. The OLPC XO is $200, as the Uruguayan RFP and even their own website shows. Intel is also talking $200 dollars per laptop too, and maybe as a direct response to Charbax, is adamant that it's a non-subsidized cost:
Kwan said that Intel and Microsoft are not subsidizing the price of the laptops, which Intel sells under the Classmate PC brand. She did not disclose how much the Libyan education ministry is paying for them.
Yet before you jump on either company as better or worse than another, do remember who will be the real winners of this competition: children and education in the developing world.
No matter who sells what to whom, the bottom of the pyramid will soon have top of the line technology.