The Bethania Orphanages are one building each, some with flat roofs serving as available play area. I am Chris Meinzen, and for the past 40 years my extended family has been supporting this string of orphanages. They are scattered across the Palni Hills in central Southern India but concentrated in my father's childhood home, Kodaikanal. I had never been to Kodai or Tamil Nadu, but grew up next to the stories of my father's childhood there.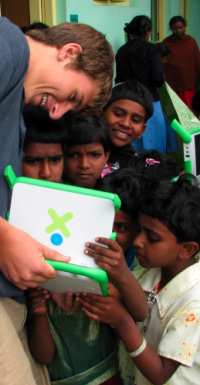 Chris donating an XO
Last summer I traveled with my grandfather and Uncle Tim to the home I'd imagined but never seen. My father had work in Kansas, but sent us the gift of two XO laptops. I spent the three weeks leading up to the trip trying to learn everything I could about these little green computers. Thanks to the OLPC Wiki and numerous guides, this ended up being a significant body of knowledge. We had almost a month in India, but only three days with our orphanage.
My first two weeks traveling consisted of bumbling down crowded streets, receiving cup after cup of tea, and staring open-mouthed at statues I'd never seen. The laptops followed on my back through the many dark halls of public temples and into the warm homes of many family friends. I received a new level of hospitality served in dhosas with an unidentifiable, yet devastatingly hot, chutneys. I could never compare deserve the kindness of my Indian hosts, but my klunky backpack reminded me that I, too, could give something.
But they were still impressed. The girls of the orphanage crowded around to see pictures of themselves and hear themselves sing. I played a little beat I had mixed on the TamTam. They eagerly pressed the arrow keys and trackpad, hoping for more music. It would take a little more training than that. I spent that day, and the following two, in a 4ft by 4ft room explaining to their benevolent 'mother,' Josephine, the extent of the XOs capability. She quickly learned whatever I taught her, and diligently explained it to any child who asked.
Her daughters drifted in for half-an-hour to stare and laugh and tap the screen, but were eventually shifted out to my uncle's drawing lessons. I'm glad I bullied him into accompanying me. The pressure of three-dozen girls from 6-16 years old would not accelerate the learning process.
I could sense the impact of these computers by Josephine's greeting the second day, "I am sorry if we are tired. The girls stayed up very late learning the computers." Two XOs will not give every Bethania girl computer proficiency, but this gift will give many of these girls their only access to the internet, and their only chance to send their own message outside Kodai.
My cousin Micah arrived January 10th for his 4th trip to India. He's bringing two more XOs, for another Bethania orphanage. I hear the new laptop is even better fit to serve its users. Good, they deserve it.

If you're interested in supporting Bethania's education, please contact me.