These concerns about OLPC Ethiopia are from an anonymous report from an OLPC critic working in the Ethiopian government.
1. Introduction
This brief paper discusses the proposal to provide every child in Ethiopia with one laptop. The paper argues that this would represent a misuse of resources and urges those who are working on OLPC to re-examine the desirability of the project in light of the more pressing needs that Ethiopia and other developing countries face.
2. OLPC: Some Concerns and Reservations
The principal concern with OLPC is the huge opportunity cost of the laptops. The average textbook in Ethiopia costs 4-5 Birr (50 cents). 12.6 million children are enrolled in primary school Grade 1-8 (A further 1 million are enrolled in Alternative Basic Education, I have excluded them from this analysis) and these children study 6 subjects.
Costs vs. Textbooks
Taking the unit price of a textbook to be 5 birr, it would cost $37.8 million to provide every child in Ethiopia enrolled in primary school with a new textbook in every subject that they take. Taking the price of the laptops to be $170 (the price I saw quoted on BBC website) spending this much money on the laptops would provide 222,352 Ethiopian children with a laptop, approx 1.8% of the children who are currently enrolled in primary school.
The charge made by the proponents of OLPC that they are not seeking to establish the laptops as direct competition for textbooks is nonsense given that the Ethiopian Government only has a limited budget with which to achieve its objectives. Within any given budget increasing expenditure on one item by definition leads to reduced expenditure elsewhere.
Costs to Government
Although at first the laptops may be provided by donors, if Ethiopia is to truly achieve OLPC (one pen per child sounds a bit more realistic) it will require significant Government expenditure on the laptops. Furthermore the initial donor assistance has a high opportunity cost; the money could be invested more wisely in a number of areas that would reap significantly larger gains for Ethiopia.
While the cost of the laptops will fall, the number of children enrolled in primary school in Ethiopia is projected to increase, according to the ten year plan, to 21.4 million in 2015. Thus the cost of providing OLPC in Ethiopia will over the foreseeable future increase dramatically.
If there are 21.4 million children enrolled in primary school in 2015, and assuming that the cost of the laptops has fallen to $100 by then, the cost of providing OLPC would be $2.14 billion. Assuming that the Ethiopian economy grows at a steady rate over the next 8 years the Ethiopian economy is expected to be approx $26.9 billion by 2015. Under this reckoning the laptops would come to represent approx 8% of the economy, which is exactly double the resource allocation that the education sector is set to receive in 2015!!!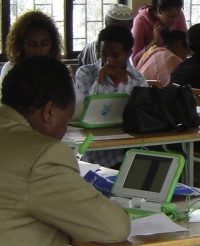 XO laptop usage by educators
Other costs
This would make the laptops bigger than key sectors in the economy such as horticulture. This cost is also the lower end of what will be needed since the laptops may cost over $100 in 8 years time, and it ignores the cost of re-supply of laptops that are lost/stolen or break down. Furthermore in order for the laptops to be effectively used it will be necessary to train both the teachers and pupils in how to use the new equipment.
This suggests that without an extraordinary infusion of donor funding it will not be possible to roll out OLPC in Ethiopia by 2015 or in the immediate years preceding it. However, their purchase in even a small segment of the country would be disastrous.
Cost relative to GDP
The GDP per capita in Ethiopia is approximately $140, whereas the laptops are worth $170. Embarking on a project that will provide every (or some) child in Ethiopia with one laptop is the equivalent to giving every child in the UK an object that is worth approx $45-50,000 and asking them to carry this highly visible item to school. This is the surest way to make Ethiopian children a target.
One of the reasons for parents not sending their girls to school is the fear that they will be attacked. Giving them a $170 laptop will only (justifiably) heighten this fear. The idea of OLPC is that children carry the laptop to and from school every day. Bearing this in mind one of either two things will happen.
Laptop theft
Firstly children will not carry the laptops to school for fear of being attacked. In Ethiopia parents are required to cover the cost of lost or damaged textbooks and as a result many parents do not let their children carry textbooks to and from school for fear that they will be either damaged in transit or stolen.
If parents are unwilling to let their children carry a textbook worth 50 cents for fear of it being stolen, the thought of sending their children on the potentially 2 hour walk to school with $170 with them will not appeal. This would significantly reduce the value of the laptops; Ethiopia would be left with an expensive piece of equipment that will be underused.
Attendance deterrent
Secondly, if all children are required to have the laptop in school in order to participate in class, OLPC will act as a disincentive to children going to school. If the journey to school is now a significantly more risky venture parents will be even less willing to send their children and particularly girls to school. This will be especially true in remote and rural locations, where approx 85% of Ethiopians live.
The proponents of OLPC have responded to this charge by saying that everyone will know that only children and teachers should have a laptop and so if anyone outside of this group is caught with one they will be in trouble. While this may be the case the extent to which the rule of law is implemented in developing countries is highly variable and typically below what we are used to in the west.
Black market
It is thus somewhat naive to think that when you give children a piece of equipment that is worth more than the average Ethiopian earns in a year that a black market will not develop. Even if the laptops are not intrinsically useful to the average man on the street they could be resold to another school below the official price, but at a large profit for the thief.
Furthermore the laptops could be taken apart and some of the parts be sold on for a huge profit. In short the laptops will have an inherent value to every Ethiopian, and in a society in which every day is a struggle for survival something that eases this struggle albeit illegally, will appeal to an element of every society especially when the good is highly visible.
Repair
One further concern is that the laptops will inevitably break down. Repairing the laptops will not be a priority for poor subsistence farmers and thus outside of wealthy families they will almost certainly remain redundant once broken.
In addition to this, it is highly unlikely that remote and rural communities (where 85% of Ethiopians live) will have either the skills or equipment to mend the laptops. It has been assumed by the proponents of OLPC that the children themselves will conduct the majority of the maintenance on the laptops, this is again highly unrealistic. This project will thus leave Ethiopia with an expensive piece of equipment that would not realise its potential.
Textbooks are few and far between in Ethiopia and are often in a state of disrepair. As a result if OLPC was rolled out in one part of the country, within a year or two the textbooks that exist will disintegrate and the children will be left to rely upon a computer for all of their additional reading. In a country in which the skills and finance are simply not available in rural areas to fix the computers when they break down, this is a highly dangerous strategy.
The breakdown or stealing of one child's computer would be a personal tragedy (the chances of it being replaced or fixed are very slim), however it this was to afflict a significant share of an entire country it would be an unmitigated disaster. Reading outside of class would cease to exist.
Ethiopia is not at a stage whereby laptops can replace textbooks, and while the proponents of OLPC may claim that they are not seeking to replace textbooks the fact that they are planning to put the entire curriculum on the laptops suggests otherwise.
Appropriateness for education
The problem with ICT is that it becomes a vanity project for those involved. While the technology behind creating a laptop that costs $170 is clearly a remarkable achievement, what is less clear is that it is appropriate for countries like Ethiopia to buy these laptops en masse.
Since it is now possible to create laptops that cost $170 the people who have defied the doubters and achieved this feat understandably want to have the technology used. This compounded with the fact that the proponents of OLPC are by their own admission IT specialists who typically know little or nothing about the pressing needs that developing countries face has lead to them putting their own private interests ahead of the interests and needs of the developing world.
This position is entirely understandable (if I had created something I would want to see that it was used) however it does not mean that it is desirable for countries like Ethiopia at the moment. ICT does have its place in education, but in desperately poor countries in which for most people every day is a struggle for survival it should be limited to higher and possibly secondary education.
Plasma screen disaster
Every secondary school classroom in Ethiopia has a 42-inch plasma television. At about 3000 pounds per plasma, and approx 14,000 secondary school classrooms in Ethiopia, this represents a significant investment. In addition to the huge opportunity cost of the investment, the frequency of power cuts in Ethiopia combined with the paucity of skills and funding to mend the plasmas when they break down has meant that the plasmas have been an absolute disaster.
This experience provides a stark example of how using inappropriate technology in the education sectors of developing countries induces a wastage of scarce resources. The fear is that OLPC will become the next "plasma."
The introduction of the plasmas has also significantly reduced the level of interaction between both the teachers and the pupils and the pupils themselves and has in many ways left the teachers redundant. A further key issue is thus how well integrated into the school day will the laptops be. The danger is that children will spend the majority of their time in front of the laptops and not interacting with their peers.
3. Conclusion
OLPC is the latest in a line of poorly thought out ideas that will ultimately hamper the development of Ethiopia. Ethiopia is one of the poorest countries in the world in which most schools lack basic sanitation and textbooks.
OLPC proposes to give a highly expensive piece of equipment (expensive to Ethiopia not to its proponents, I think that this is a source of the problem, the IT specialists think that $170 is cheap, anyone who works in development knows that this is not the case) to a country in which the majority of the populace are subsistence farmers.
Due to concerns regarding security and lack of skills and equipment to fix them, the extent to which this technology will be used is highly questionable. In addition to this the notion that it is desirable for Ethiopian children to have their own laptops is farcical. Ethiopian children have more pressing needs such as whether they are going to be able to go to school at all and if they will have enough food to eat.
The scarce resources that the Ethiopian Government and the donors have at their disposal should be channelled towards these pressing needs and not OLPC.
These concerns about OLPC Ethiopia are from an anonymous report from an OLPC critic working in the Ethiopian government.