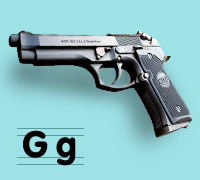 We here at OLPC News were shocked when we noticed that the One Encyclopedia Per Child mock up included an image of a gun for the letter "G." We knew One Laptop Per Child could not be that insensitive, but there is was on the OLPC Wiki.
Looking at the history, we noticed Ivan Krstić had modified the page but we couldn't believe he would be within 1 gigabyte of such insensitivity and made sure to note in our original post that we did not know who created the images and we were not implying that they were created for or specifically endorsed by Ivan or OLPC.
Recently, Ivan Krstić contacted OLPC News and clarified the history of the image:
The mockup is unofficial and was created by a South African professor working with his daughter; it in no way represents thinking of the OLPC project. My only interaction with the page was part of my wiki upkeep efforts, when I removed the page that used to be called --over-generally -- "Hyperlinked_hub", and merged its contents into the OEPC article.

The actual work is neither mine nor OLPC's, and should not be construed as such.

I'm loathe to the idea of my name being associated, even if just as a possibility, with attempting to bring gun imagery to children.
Thank you Ivan. The clarification is duly noted and the original post will be edited for clarity. We here at OLPC News are happily relieved that it's not an official One Encyclopedia Per Child image.
We also think it's not even wise to have a gun image on the OLPC Wiki. While we knew all along that One Laptop Per Child would not think a gun appropriate for children, there are others who may not be so discerning about what is official and what is not.
OEPC Image Update
While understandably hesitated to edit an unofficial volunteer contribution, particularly one that's been made in good faith, Ivan has gone ahead and removed the image.