Give a man a fish and you feed him for a day. Teach him how to fish and you feed him for a lifetime. Lao Tzu
I am Dr. Martin Woodhouse MA MB BCh(Cantab). Like your editor, I believe that the OLPC initiative is, quite simply, the greatest philanthropic idea there has ever been. Since I am now about to be highly critical of it, let me make that plain from the outset.
I have read OLPC News, and its archives, for several months now.. And what I feel is a growing sense of disbelief, as one would-be participant after another arrives on the scene. I am looking, it appears to me, at a school-yard battle over a bag of sweets.
I dare say it was inevitable that this scuffle would develop; we are after all looking at a projected target population of, well, it depends upon which enormous figures you're looking at today, but around five billion potential users? Nobody wants to be left out of the photographs, so we have Mr Gates climbing on board, and Intel, and the Linux Lads, and no doubt Apple any moment now.
Mine is bigger than yours, and all that. It is all very understandable. But, people, it's not very edifying, is it? And then, from another side, my mind is assaulted by . . . Well, I have this picture, you see, of a little semi-literate third-world boy playing SUPER MARIO BROTHERS or DOOM --- it's right there in the press releases: wow, Doom, eh? --- in his breaks from doing a spot of multimedia creation --- that's there too --- while somebody (maybe his little sister?) pulls away at the string on the yo-yo generator so he can have a few more minutes on the XO, run a bit more video, download a bit more stuff from the Internet . . . ?
Hold that picture in your mind. Because, no fooling, that's what being proposed. Multimedia creation with the aid of a bit of string-pulling. It's a picture which would make a gift for a more satirically humorous commentator than myself. Pull, pull, create, create, interact. What's the word I'm looking for? Constructionism, oh, yes, that's it. Constructionism, via string-pull.
I cannot laugh, though, because in the background to this picture I see the six-year-olds, the fourteen-year-olds, who can neither read nor write and who cannot therefore drag themselves out of the mud, out of the desert sand, out of the slough of starvation and illness and exploitation --- out, in brisker terms, of the shit --- as it was intended they should.
Could we stop all this nonsense, please? The XO is a superb piece of design work. Its aim was similarly superb, but has now wandered. It's now a beautifully designed political football, and that's pretty much all, while we play around with the philosophical and educational implications of making cheap(ish) computers available to pupils in the Western World who can already read, write, add, and subtract a little.
And that is a very, very great pity indeed. Because it wasn't the way it started.
In my next article I shall tell you (if you and your editor will allow me) what we need to do to get things back on track. It will involve not the "hundred and seventy (or however many, and rising) dollar computer", but a genuine, no fooling, fifty-dollar machine. Which doesn't, incidentally, need or use Windows, not even as a cheap three-dollar add-on, but there you go.
And maybe we can then all stop fighting over the bag of sweeties.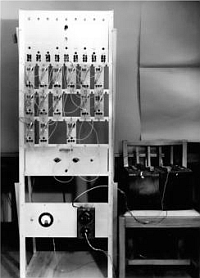 Old School Lettuce
I shall have to re-design the machine, in detail and with costings, I can see that. Put up or shut up, as they say? Fortunately I have been in the computer building business for quite a while. Exactly fifty years this summer, in fact, and here's a picture of the first computer I built, in 1957, at the \medical Research Council in Cambridge (England, I hasten to add).
She's called LETTICE, the Logical Truth Computer or LTC, and she has nine bits -- not bytes or kilobytes --- of SAM (Sequentially Accessed Memory), and runs off a battery. Two car batteries, to be exact. Charged by wind-power, you'll probably be happy to learn.
Mind you, I suppose things have changed a bit since then.
With love, then, until next time