This Saturday, XO laptop users in Washington, DC and Ottawa, Canada are going to form a very special mesh - we'll be exploring and learning XO software and hardware together via Nortel's massive videoconferencing center.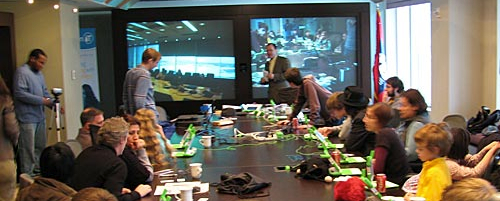 First, we'll heard reports from all the OLPC-centric activity over the last month, like the 4PC Bakeoff, OLPC Grassroots Jam NYC, OLPC Grassroots Unconference in Boston, OLPC Photo Jam 1, and more.
Next, for all those excited yet scared of Sugar Update 1, the precocious crew of OLPC enthusiasts at the Arlington Career Center will lead us through the software upgrade process. Hopefully, the amazing FFM will translate any kernel hacking acts into parent-friendly instructions so we can skip confusing code like this:
"echo 'SUBSYSTEM=="net", KERNEL=="msh*", OPTIONS="last_rule"' /etc/udev/rules.d/10-olpc-netif.rules"
The Arlington Career Center has also opened a
XO Repair Center
that can fix any laptop hardware issues you may have. For those handy with computer hardware, the repair crew will do a laptop disassembly demonstration at the meeting, using the new
repairs cookbook
.
If you're in Ottawa, check out the OLPC News Canada Forum for information their attendance requirements. For Washington, DC, Please be prompt - Nortel Networks is a secure office complex so we'll be on the lookout to let people in between 9:45am-10:15am.
Family XO Mesh Meetup
Saturday, June 28th, 2008, 10 am to 1 pm
Nortel Networks,
101 Constitution Avenue,
Washington, DC 20001 [Map]
More details and event information is on OLPC Learning Club DC.