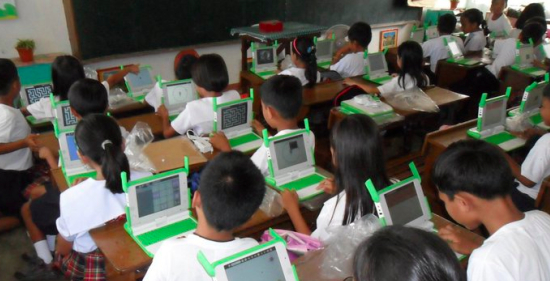 This past December 2010, along with donors from the National Computer Center and Lubang Municipality, Education Kindling (eKindling) officially launched 100 XO laptops in two public elementary schools on the rural island of Lubang, Mindoro.
The launch was met with excitement from the Philippine Education Secretary, media, and the Lubang Community. For a grassroots organization, which had our start in a Facebook Group a year and a half ago, this launch was a huge win.
Getting to where we are now was an adventure (here's a summary of our journey). With the deployment of the XO laptops, the two schools have undergone a technological transformation. Educational transformation for the students and educators, on the other hand, is still beginning.
Since our launch, our main focus has shifted to rethinking learning and developing our student-centric, educational programming. Here is just a glimpse of what we learned and what is in store for our organization and our community in 2011.
1. Preparing children for the 21st Century
How do we use the XO laptop to position our children for success as the leaders, life-long learners and problem solvers of the 21st century? Part of our answer starts with the 21st century learning framework. In addition to gaining competencies in core subjects, we believe students must also gain multi-dimensional skills, literacy, and knowledge needed for success in the 21st century. We are challenging and training our educators to develop those very competencies in their classrooms.
For example, our Christmas Party Planning Session had the students plan the budget for their class Holiday party using the Finance Activity on the XO Laptop. In addition to learning fractions, students developed collaboration, communication and basic entrepreneurial skills. Through the Holiday Planning Session, learning became more meaningful and connected to the real world, and this is what we hope to accomplish in future learning activities.
2. Producers of Local Knowledge
With the XO Laptop, our students will be able to connect to the world and consume knowledge. However, we believe that children can also be producers of digital artifacts and local knowledge. How can Lubang children know so much about New York City landmarks, and know so little about the history of their local heritage sites? The OLPC Mapping Activity from Uganda is an inspirational example for the preservation and production of local knowledge.
As part of this project-based learning activity, we will challenge our students to go to locations of historical importance on the island of Lubang, interview local authorities and create a shareable document or digital artifact using the XO laptop. The project will allow students to gain competencies in the Philippine language, local history and media creation. This represents a fundamental shift in teaching and knowledge acquisition in the Philippines. Through this project, the student, not just the teacher or computer, becomes the source of knowledge.
3. Tech Squad Kids
When we visited Dr. Gerald Ardito's OLPC deployment in Upstate New York, we witnessed how students joyfully assisted others when technical problems emerged. It was a practice we replicated in the Philippines. As part of our training program, pre-selected tech squad kids trained alongside our educators. Now, our educators recognize them as co-teachers in the classroom.
These kids inspire a spirit of collaboration amongst their classmates as they became leaders in solving technical and academic problems in the classroom. The self-confidence and leadership skills of these students increased dramatically too - a direct outcome of the Tech Squad Kids Program. Ultimately, children are natural teachers to each other. We can leverage this to create more effective learning environments.
4. Champion Educators
Open-minded, honest, and promising - these are some of the qualities we looked for when we chose our champion educators. Open-Mindedness because adopting new learning innovations occurs when educators have the ability to learn, relearn and unlearn. Honesty because we need blunt feedback about what needs improvement in our pilot program. Promising because we want educators who hunger for better ways to inspire a love for learning in children. Our educators posses these qualities.
Technology never replaces teachers. Rather, they should feel empowered by it. Through intensive support and training that truly addresses their needs, they will be the main protagonists that facilitate 21st century learning inside and outside the classroom.
5. Community Ownership
Community ownership is a clear and essential part of the sustainability equation and it is an element that needs to be nurtured and maintained. As part of our program, a parent leadership team was established to encourage parent and community participation in the pilot program.
Non-profit organizations working in the same area were tapped to explore areas for collaboration. The local government unit has fully committed to investing available resources to the program. This level of progress would surely not be possible without community support.
6. Global Village Mentors
The XO laptop coupled with new and powerful learning ideas can overwhelm educators, especially those who have limited or no exposure to learning technologies. How do we make it easier for Educators to teach with the XO Laptops? The answer is complex.
One idea is to leverage our community of educators from the Philippines and around the world to provide mentorship and guidance to our educators. The mentorship program will allow mentor and mentee to discuss concerns and challenges, exchange powerful learning ideas, and collaborate on lesson planning. Want to volunteer and be a mentor?
While the technological transformation of pilot schools presented clear challenges, educational transformation will surely be more difficult to achieve. It takes patience. What we hope to do is shape a learning environment anchored on the XO Laptop and innovative learning and teaching concepts that positions our students, educators, and community for success. The points above are our efforts to create such a learning environment.
Nonetheless, the XO laptop has an important function in education reform in the Philippines. In the Philippines, it certainly offers us an opportunity to rethink and innovate education for all.
Ryan Letada, Executive Director, Education Kindling (eKindling)